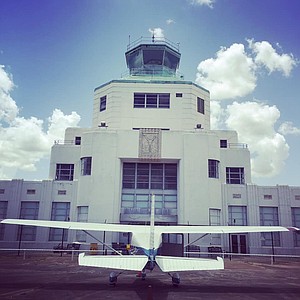 Going to the chapel is becoming outdated for today's couples. More and more newly engaged brides and grooms are looking to wed at places that speak to who they are on a personal level and really uniqueness to their nuptials. Out-of-the box venues like greenhouses, wineries, distillers, breweries, barns, lofts, museums, air terminals, fire stations, castles, and secret oasis are what couples are seeking. Below are some of Houston's most unique venues.
Station 3
1919 Houston Ave., Houston, TX 77007 * 832-831-8113 * houstonfirestation.com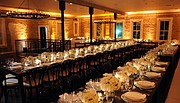 Sound the alarm to have a fire hot wedding at one of Houston's original fire stations built in 1903. Located on Houston Avenue, Station 3 is centrally located to offer the needs of the couple and all their guests. The 5,800 sq. ft. space can accommodate a maximum of 250 people, depending on the configuration of tables and chairs. On site the venue has a courtyard for outdoor entertaining, bridal lounge to serve a dressing room, and a private catering area with a refrigerator, sink and prep area. Guests will be able to park at the neighboring paved parking lot that holds 60 vehicles.
1940 Air Terminal Museum
8325 Travelair St., Houston, TX 77061 * 713-454-1940 * 1940airterminal.org
Have your guests go on a trip without ever leaving the ground when holding your wedding at the 1940 Air Terminal Museum. All décor is a nod to the art deco era with materials of stucco, limestone, and marble. Exhibit rooms filled with artifacts, photographs, uniforms, vintage aircraft, and airline memorabilia chart the triumph and progression of both private and commercial flight in Texas history. Four available event spaces can occupy 50 to 500 plus people comfortably. Museum parking is onsite for approximately 75 spaces with more free parking nearby. Plus, when renting this facility you will be helping a great cause. All proceeds benefit the Houston Aeronautical Heritage Society.
Star Fleet Yachts
280 Grove Rd., Kemah, TX 77565 * 281-901-5648 * starfleetyachts.com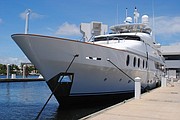 Sail away with your guests onboard a luxury yacht cruising Clear Lake and Galveston Bay. The full service 2,019 sq. ft. yacht has two levels with the largest room holding a maximum of 150 people. The main salon area is 897 sq. ft. of space and the top deck is 1122 sq. ft of space. There are a pull-down screen and two flat screens TVs for audiovisual requirements along with projector, microphone, and flip charts. There is also a canopy cover available that can be fully enclosed the open air space on the upper level so that weather is not a factor when using this space.
Cottage Charm @ The Romack House
5806 4th Street, Katy, TX 77493 * 832-451-7749 * cottagecharm.org
For an intimate and charming wedding, the Cottage Charm is just place. It is like having your wedding in your grandmother's backyard. Built in 1905, the historical country cottage in Katy, Texas is on ½ acre enclosed by 100-year-old trees. A couple can really make it their own as it is a dream for a person who is into DYI décor. There is a private bridal studio, Garden Room and a separate Commercial Kitchen for personal chefs on site. All staff is extremely helpful in making your event special and unique.
George Ranch Historical Park
10215 FM 762, Richmond, TX 77469 * 281-343-0218 * georgeranch.org
If you are a little bit country then the George Ranch Historical Park is the place for your nuptials. Located 30 miles southwest of Houston, the park has 20,000-acres to create whatever kind of wedding you can imagine. There are indoor and outdoor spaces like a church, barn, a hall, and plenty of yards that can hold 30 to 500 people. It is a one-stop-shop with tables, chairs, food, lighting, and sound packages and so much more. The venue features livestock, historic homes, and character-filled facilities perfect for your special day. Get creative when on the ranch.