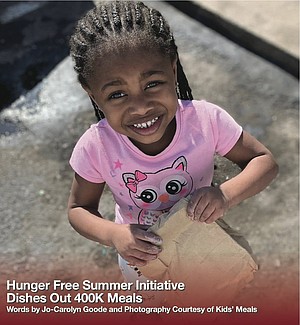 School bells ringing are a bigger relief for some families than just getting children out of the house. It means that their children will have two well-balanced meals a day at school. One in six children across America doesn't know where their next meal will come from. Texas is a distant 43rd for children's overall well-being with a devastating 25% of the children living in poverty. Houston ranks second in the nation for children living with food insecurity. Harris County has the second highest rate of child food insecurity in the nation. A hungry free summer seems unobtainable but in summer 2019 it was made possible.
A child living in a food insecure home where healthy food is not readily available, they receive smaller than normal portions or they are not eating daily negatively affects their development. Children are more prone to health related conditions leading to increased hospital stays, lack of focus in school, and increased problems in school and social situations. Results are more damaging in children that are three-years-old, the toddler years, and younger.
The first three years of a child's life are critical in brain developmental. Children become little sponges soaking up all kinds of knowledge as they learn the world. Proper nutrition gives them energy and fuel to learn and grow. For those living in low-income homes, securing healthy food becomes extremely difficult and they are left hungry. Luckily, Houston children have a rescue net in the 501 c 3 nonprofit Kids' Meals, the nation's only free home meal delivery program targeting preschool-aged children.
With the sole mission of delivering free, healthy food year round to the doorsteps of Houston's hungriest preschoolers, Kids' Meals is helping to stop childhood hunger and end the cycle of poverty. Beth Harp, Executive Director, Kids' Meals, further explains, "Our children live in neighborhoods where the poverty rate is 25%-48%. They not only live in food insecure homes but in food deserts where there is little to no access to fresh produce and healthy food options." She continued, "This tragedy causes suffering and perpetuates the cycle of generational poverty. It also costs our state and nation millions of dollars in preventable healthcare, education, workforce, and human services costs."
Kids' Meals has made an impact since 2006 delivering more than 5.7 million meals to poverty-stricken children. This summer the organization partnered with children's favorite golden arches establishment, McDonald's Houston for their annual "Hunger Free Summer" initiative distributing 400,000 meals to preschool aged children and their siblings, Kids' Meals expand their reach in the June, July, and August to account for siblings 18 and younger who no longer receive breakfast and lunch that they get when school is in session.
Harp commented, "We feed all of the children in the homes, up to 6,000 per weekday, because accessing food sites is a tremendous challenge for families who have no transportation or only one vehicle."
Helping with their efforts is community partner McDonald's Houston. "As parents, as small business people, and as active members of our communities, Kids' Meals' cause hits close to home for all of us. At McDonald's, we believe no child should spend a single day hungry," said Hazel Smith, local McDonald's owner/operator and president of the Black McDonald's Owners Association of Houston. "McDonald's Houston owner/operators are donating time, resources and funds to support Kids' Meals' "Hunger Free Summer" initiative and spread the word to our community about how we can all come together to help them provide more than 400,000 nutritious meals to children this summer in Houston."
Through the generous support of donors, an army of volunteers weekly prepared the meals. The additional assistance from McDonald's Houston owner operators was a great benefit to expanding their reach this summer. McDonald's, as one children's favorite destinations, is always looking to improve the nutritional value of food as more and more become conscious about what they are putting in their children and their bodies.
"We understand that now more than ever, people care about their food – where it comes from, what goes into it and how it's prepared. We are always listening to our customers and working to build a better McDonald's." Smith added, "That starts with sourcing food responsibly and using real, quality ingredients across our menu. We believe in giving customers a variety of choices, including our Egg McMuffin, made with a fresh cracked egg, English muffin and lean Canadian bacon, Quarter Pounder, made with fresh beef and cooked to order, and Southwest Grilled Chicken Salad. We invite everyone to come in and try our new menu items." After trying their new menu items, head on over to Kids' Meals to join them in the fight to end childhood hunger by donating or volunteering your time.
Research indicates the amount of money needed for a family of four to have the basics of shelter, clothing, food, and transportation is $25,750. Forty million families in America fall below this threshold. Of that number 13 million are children. Data collected is based on the federal poverty level set by the U.S. Department of Health and Human Services. The federal income eligibility guidelines defines "working poor" as: 1) a household (individual or family) earning less than 200% of the federal poverty line – $21,660/year for an individual and $44,100/ year for a family of four with two kids – and 2) where one member of the household has spent at least 27 weeks in the labor force working or looking for work in the last year. Summer programs like Kids' Meals reach about 15% of the nation's hungry children.
And the numbers aren't getting any better. In fact, they are getting larger. "As our city continues to grow, children living in food insecure homes are also growing. In Houston, 1 in 4 children doesn't know where their next meal is coming from. Many times, Kids' Meals is their lifeline for daily nutritious food. Kids' Meals is now serving 3,100 preschool aged children each weekday, so we are making a tremendous impact. But the need is so great, with more than 24,000 children who in Houston living in impoverished homes," said Harp.
If you are in need, please sure your little ones or those you know don't go to bed with empty tummies. Applying is easy. Families with eligible children under the age of six-years-old need to fill out the one-page application and attach proof of benefits (SSI, TANF, SNAP, housing, free/reduced lunches). Applications are reviewed and once approved free weekday will be delivered directly to their home, apartment or trailers in our Kids' Meals vans.
Childhood hungry and poverty is an issue that can be controlled with the help of the community. Donations of resources and time are always welcomed. Aggressive efforts are needed to eradicate this problem. Kids' Meals projects to deliver 1 million meals over 248 delivery days, thanks to the help of 20,000+ volunteers who will share more than 70,000 hours to make and deliver meals as well as 100,000 bags of produce and pantry staples to support our families. Learn more about volunteer and donation opportunities at www.kidsmealsinc.org.