Pro-Vision Inc. Hosts Ribbon Cutting Celebration in Sunnyside
Janice McNair and McNair Foundation to Announce 5 Million Dollar Gift to Housing Initiative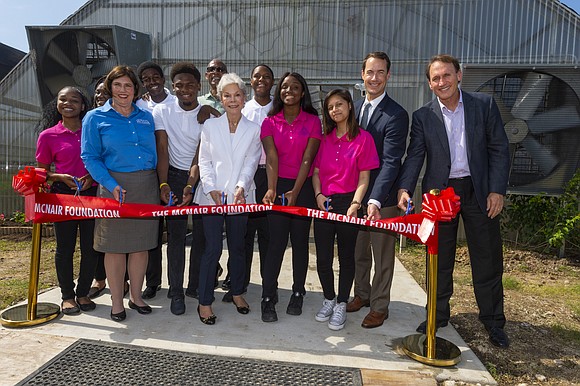 Houston, TX - Pro-Vision Inc. will host a ribbon cutting and community celebration at the Sunnyside campus for a new multi-purpose building on Tuesday, August 13th beginning at 11:30 a.m. at 4590 Wilmington St., Houston, TX 77051. The celebration will also include the announcement of a generous $5 million gift by Janice McNair (who will be in attendance) through The Robert and Janice McNair Foundation for the organization's new housing initiative.
Pro-Vision Inc. is an organization that uses a four component approach in their efforts to dismantle poverty through education, nutrition, character development and housing. The ribbon cutting will celebrate the completion of their new multi-purpose building, which was part of their $9.75 million dollar capital campaign. The building, which was value-engineered through the need of three buildings, includes a high school, a gymnasium and community service offices. The City of Houston and The U.S. Department of Housing and Urban Development (HUD) provided 2.8 million dollars in funding for the project.
Janice McNair, who has supported Pro-Vision's Urban Farm/Aquaponics Initiative, will join the McNair Foundation in the announcement of a major 5 million-dollar gift to catapult Pro- Vision's new housing initiative for the community it serves in Sunnyside. Kristi Cooper, executive director of The Robert and Janice McNair Foundation said, "The McNair Foundation proudly supports organizations that are addressing pressing societal challenges with solutions that enhance the quality of life and create lasting change for current and future generations. Janice McNair is excited to be a part of and champion Pro-Vision's mission of inspiring hope and purpose in young people through access to academic, economic and social enrichment opportunities."
"Pro-Vision is honored to be the recipient of such an impactful contribution from the McNair Foundation. This gift to Pro-Vision is helping to set the foundation for the transformation of the Sunnyside community, as well as enhancing the quality of life for those who live there. I consider it a great responsibility that they have chosen to partner with our organization. The hope is that this investment will positively reach generations who are yet to be born," says Roynell Young, Founder and CEO of Pro-Vision Inc.