Sisters Network® Inc. to Host 9th Annual National African American Breast Cancer 5K Walk/Run
Funds raised benefit the Breast Cancer Assistance Program (BCAP)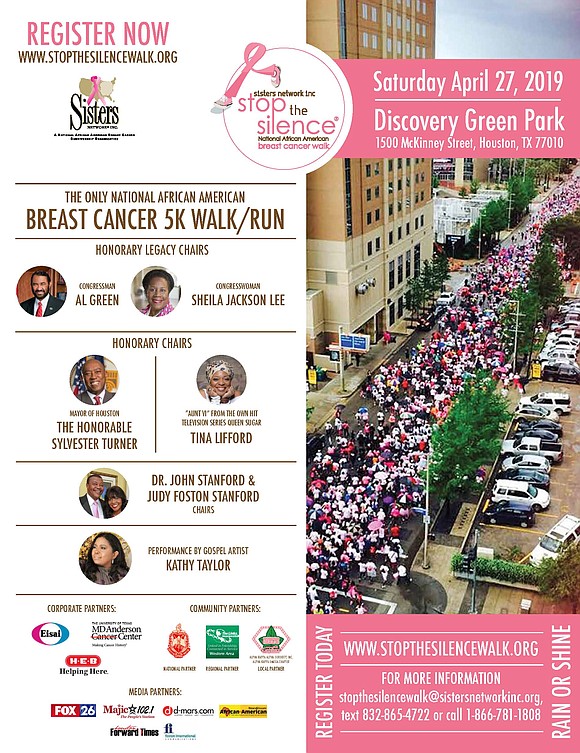 Houston, TX., April 3, 2019—Sisters Network® Inc. (SNI), the only national African American breast cancer survivorship organization in the United States today announced over 5,000 participants are expected to walk/run on Saturday, April 27, 2019 at 8:00 a.m., at the 9th Annual Stop the Silence National African American Breast Cancer 5K walk/run. The event will be held at the Discovery Green Park, 1500 McKinney, Houston, TX. 77010.
Breast cancer is the most common cancer among African American women. An estimated 27,060 new cases of breast cancer and 6,080 deaths are expected to occur among African American women according to the American Cancer Society Facts & Figures. The five-year survival rate for African American women is 78%, as compared to 90% for white women.
On-line registration closes on April 20, 2019. Individuals can register for $35.00 or $350.00/team (minimum of 10). To register, please visit www.stopthesilencewalk.org or call 866-781-1808 for more information. On-site registration will be available and will not include a walk t-shirt. Vendors will also be on hand with healthy snacks and special giveaways.
Funds raised from the walk benefit SNI Breast Cancer Assistance Program (BCAP), a national program that provides free mammograms and assistance to women facing financial challenges after diagnosis. Last year, Sisters Network provided over $100,000 in financial assistance and free mammograms for survivors and women nationally.
"Sisters Network is honored to continue to host the only national African American breast cancer walk attracting thousands of participants from around the United States," said Karen E. Jackson, Founder/CEO, Sisters Network Inc. "We are proud to be at the forefront to 'Stop the Silence,' increase breast health awareness in the African American community, encourage women to get annually mammography screenings and provide financial support to survivors nationwide," added Jackson.
U.S. Congressman Al Green and U.S. Congresswoman Sheila Jackson Lee are Honorary Legacy Chairs, Mayor Sylvester Turner is Honorary Chair. Tina Lifford aka "Aunt Vi" from Queen Sugar is Celebrity Chair. Dr. John Stanford and Judy Foston Stanford are the 2019 Walk Chairs. Event sponsors and media partners to date include Eisai, MD Anderson Cancer Center, HEB, Schlumberger, Fox 26, Majic 102.1, DMARS, The Forward Times, African American News & Issues.
Sisters Network® Inc., founded in 1994 by breast cancer survivor Karen E. Jackson, is a leading voice and the only national African American breast cancer survivorship organization in the United States. Membership is 3,000, including more than 25 survivor-run affiliate chapters in 22 states nationwide.