Houston Introduces Faith-Based Film into the Market to Break All Social Boundaries
Educating through Entertainment with American Black Film Festival Nominee Canal Street Movie"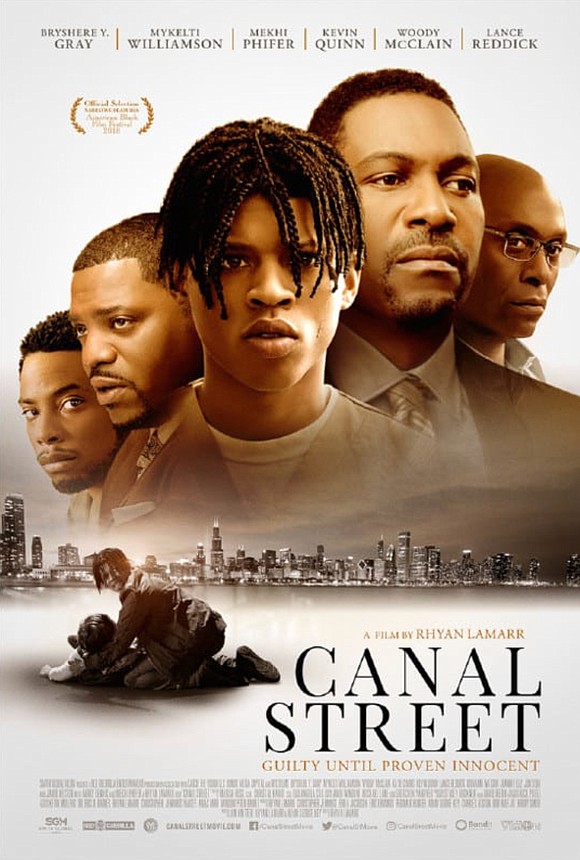 HOUSTON—It's common to bypass convicts who claim "it wasn't me" and deem it as an expression used to escape their consequences. However, more often those words are a cry for help, which typically goes unnoticed. Filmmaker Rhyan LaMarr addresses social injustices and wrongful convictions by introducing faith-driven film "Canal Street," a movie crossing economic, racial, religious and social boundaries to get at the broken heart of modern America. The film was shot on-location throughout Chicago last spring and is scheduled to premiereMartin Luther King weekend, January 18th distributed by Smith Global Media under the Red Guerrilla Entertainment banner. Berry Dynamic PR Agency will host "Canal Street" Clips and Conversations on October 10, 2018 at The Ensemble Theatre from 4:00-6:30 p.m. The event premieres exclusive scenes of the film plus meet and greets with Producer/Director/Co-Writer Rhyan LaMarr, Executive Producer Bishop Eric Garnes and Actor and Media Personality GioVanni Watson.
"People should expect to feel challenged," LaMarr states. "This isn't the cookie cutter type film that lays everything out for you. It's a raw an unapologetic look under the hood of the human condition and social commentary."
The movie is a modern-day thriller telling the story of a teen, Kholi Styles, trying to get by in an unwelcoming new world. After the mysterious death of a classmate, all eyes fall on Kholi, the new kid at his high school. It's up to his father, Jackie Styles, an up-and-coming lawyer from the slums of Chicago, to defend his son in court and battle an outraged public before time runs out. Jackie fights to keep his faith and prove his son is not the monster the world has made him out to be.
Just as the role of Kholi, this is sometimes the story of many inmates who've been wrongfully accused and convicted. "Canal Street" educates through entertainment to spark conversation between people directly affected and influencers in all communities, while also giving people still behind bars a voice.
Former Harris County Prosecutor Vivian King discussed the anticipation of the film with community activist Ciara Suesberry and political activist Danny Sneed on her show "Truth and Justice," a Live Talk Show about the Criminal Justice System designed to educate the public through true crime stories.
"A lot of young people's lives have been ruined because of probable cause," King states. "We have to talk about what's important and do something about it. That's why I went back to the DA office: To make sure all people have a fair process and safer environment to live in."
King expresses her high regards for Kapernick and the value in making sacrifices in standing up for what you believe in. She is the second black female Board Certified in Criminal Law in Texas, currently working at the Harris County District Attorney's Office
Moreover, this is indeed what LaMarr conveys through "Canal Street," exuding a powerful message in hopes to change lives.
"We wanted to show folks you can find God in the darkest of places," LaMarr states. "It's helping people from all economic statures, cultural and religious backgrounds tell a great story about the power of forgiveness."
LaMarr launched his career with a bang, landing a gig as a production assistant on Bernie Mac's Mr. 3000 while attending Columbia College in the early 2000s. He continued on The Bernie Mac Show, and now shares the spotlight with co-writers Adam Key (Batman Begins, NCIS-LA) and Jon Knitter (Restored Me) on the success of this film, which exclusive clips will be premiered Houston this October. He is one of the founders of Red Guerrilla Entertainment, which includes collaborators of top film directors, cinematographers, visual artists, writers, and producers; Oscar-nominated actors, Grammy-winning music producers, NAACP Image Award winners, and BET Award winners.
"We have some wonderful supporters in the Houston area," LaMarr states. "There so many great influencers who gave both financially, while keeping us lifted in prayer as we fought this uphill battle to get our film released. Houston is a beautiful city that continues to show Canal Street amazing support."
For more information on how to attend "Canal Street" Clips and Conversations, visit https://canalstreethouston.eventbrite.com