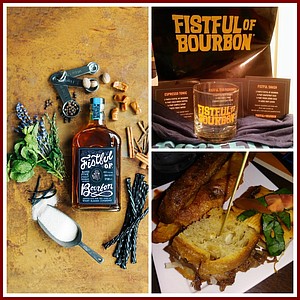 Since 2007, the month of September has been considered National Bourbon Month, and we are happy to commemorate this event with the launch of "A Fistful of Bourbon." The Friedman Agency and Bosscat Cafe joined forces to bring together Houston's foodies with the debut of William Grant and Son's latest libation.

Moreover, Texas is the first state to experience this 100 percent straight American Whiskey. This creation is the work of Master Blender Brian Kinsman, who was awarded the 2017 ISC Master Distiller of the Year, and Kelsey McKechnie, William Grant & Sons Whiskey Blender. After sampling loads of straight bourbons from all over America, McKechnie expressed her passion and commitment to creating the best possible bourbon.

We were treated to three amazing cocktails: A Fistful of Smash, Fistful Old Fashioned, and an Espresso Tonic. We also received the recipes for each drink that I will share later in this article.
So how good is it? Imagine as I describe the tasting notes: buttery toffee, nutmeg, cinnamon, caramel, and fresh leafy aromas that fill your nasal passages as well as your taste buds. The bourbon had a smooth finish, not a hint of bitterness or stale aftertaste. "A Fistful of Smash" was my favorite. It was refreshing and smooth. That's the drink to have after a long day of commuting in Houston's traffic.
And to make a good situation better, the good folks at Bosscat Kitchen and Libations located at 4310 Westheimer Road in Houston delivered tasty brisket and grilled cheese sandwiches that were accompanied by crispy, hot hand-cut potato fries. The smokey flavor of the meat paired well with the cocktail.

Now for the recipes:
A Fistful of Smash
2 parts Fistful of Bourbon
½ part grapefruit oleo
½ part fresh lemon juice
10 loose mint leaves
*Combine ingredients and shake well. Strain over crushed ice. Garnish with a mint sprig and grapefruit twist
Fistful Old Fashioned
2 parts Fistful of Bourbon
½ part simple syrup
2 dashes Angostura bitters
*Combine ingredients and stir over ice. Strain over a large ice cube in a rocks glass. Garnish with a large grapefruit peel.
Espresso Tonic
2 parts Fistful of Bourbon
¾ part Cold Brew Coffee
½ part Simple Syrup
2 parts Tonic Water
*Combine ingredients (except tonic) and shake well. Strain over ice in a rocks glass. Top with tonic. Garnish with a lemon twist.
Thanks for reading, please continue to follow Team Style Magazine on Facebook, Instagram, and Twitter.