Chevrolet Studies America's Love of Pickup Trucks
Harris Poll finds how Americans use, adore and even name their trucks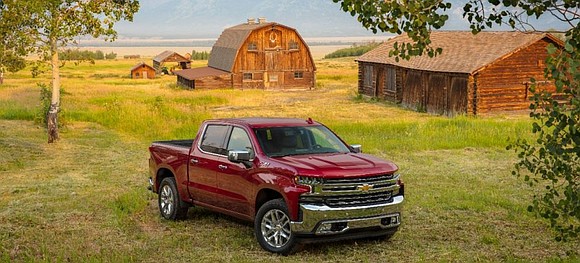 DALLAS — Chevrolet is celebrating this year's State Fair of Texas in the heart of truck country with a new survey quantifying America's love of pickup trucks.
While sales figures have long shown Americans' affinity for trucks, Chevrolet's study highlights the connection between owners and their trucks in a new way.
Chevrolet worked with Harris Poll to ask 1,012 pickup truck drivers across the U.S. how they feel about their trucks, how they use them to help others in their communities and even what they name them.
This focus on understanding truck customers is integral to Chevrolet's success and helps fuel the most successful truck business in the industry. Chevrolet's devotion to truck customers has shaped everything from the all-new 2019 Silverado 1500 to the creation of the Chevrolet Truck Legends program.
Survey highlights:
WHAT'S IN A NAME?
According to our survey, 27% of U.S. pickup truck drivers love their truck so much that they name it.
The most popular pickup truck name in America is Betsy. The second most popular truck name is Big Red*. *"Big Red" encompasses variations of "Big/Little/Old Red"
TRUCK PEOPLE ARE GOOD PEOPLE
89% of U.S. pickup drivers have used their pickup truck to help others.
33% have helped tow a friend or family's car.
33% have used their pickup truck to support a school, community or charitable cause.
A FAMILY AFFAIR
57% of U.S. pickup drivers consider their pickup truck a part of the family.
45% plan on passing their pickup truck down to a child or loved one.
38% say they love their pickup truck more than any other object they own.
60% say they "can't live without" their pickup truck.
REAL LIFE EVENTS THAT HAPPEN IN A PICKUP TRUCK
26% learned how to drive in a pickup truck. 10% have brought a baby home from the hospital in a pickup truck. 9% had their first kiss in a pickup truck.
POSITIVE IMAGE
38% think driving a pickup truck makes them more attractive.
37% believe driving a pickup truck makes them more popular.
Fueling the most successful truck business in the U.S.
Chevrolet truck sales have fueled the success of GM's overall truck business. Since 2014, GM has been the only manufacturer to offer mid-size, light-duty and heavy-duty pickups. As a result, the company has sold more pickup trucks in the United States than any other automaker for four consecutive years, with 2017 sales totaling 948,909 units.
And the company is not waiting for the competition to catch up. In 2018, Chevrolet introduced three new pickups, each designed for the diverse needs of truck customers:
An all-new Silverado 1500, offering the most functional bed of any full-size truck, weighing up to 450 pounds less for increased performance and offering a broad range of trims and engine/transmission combinations to help each customer find their ideal truck.
An all-new Silverado 4500-6500 HD, the first-ever Silverado Class 4, 5 and 6 chassis cab trucks, and the most customer-focused trucks of any major competitor.
And the Colorado ZR2 Bison, a new performance variant of the midsize truck – and Chevy's first collaboration with American Expedition Vehicles (AEV), a premium off-road aftermarket manufacturer.
SURVEY METHODOLOGY
This survey was conducted online within the United States by Harris Poll on behalf of Chevrolet between March 20 and April 3, 2018, among 1,012 adults ages 18+ who are pickup truck drivers, plus oversamples among pickup truck drivers residing in Texas (n=201), California (n=201), and Florida (n=201).