Astros Clinch American League West Division Title
Astros to play Indians in ALDS beginning next Friday, Oct. 5 in Houston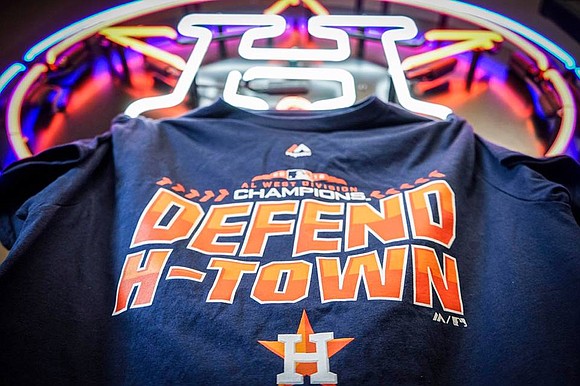 TORONTO, ONTARIO – The Houston Astros have clinched their second consecutive American League West Division title, following an Astros win and an Athletics loss earlier tonight. This sets up an Astros and Indians American League Division Series, which will begin on Friday, Oct. 5 at Minute Maid Park.
This gives the Astros their second consecutive division title and their eighth in franchise history. In addition to winning the AL West the last two seasons (2017-18), they've also won the NL West twice (1980, 1986) and the NL Central four times (1997-99, 2001). Additionally, Houston has made the postseason as a Wild Card on three occasions (2004-05, 2015) and also qualified for the postseason in the strike-shortened 1981 season after finishing with the best record in the NL West in the second half of that season. This year marks the Astros 12th time to participate in postseason play.
The Astros have now made the postseason in three of the last four seasons, a run only matched one other time in franchise history, when the Astros made the playoffs in four of five campaigns from 1997-2001.
WIN TOTAL
At 100-57, the Astros have already posted their third-highest win total in franchise history with five games left to play in the regular season. They are just two wins shy of their franchise record, a 102-60 mark, set in 1998. The 2018 Astros are just the fifth defending World Series champ since 1970 to win 100 games the following season and the first team to do so since the 1989 Athletics (103-59).
MLB POSTSEASON SCHEDULE
Major League Baseball's postseason is scheduled to begin with the NL Wild Card round on Tuesday, Oct. 2. The Astros first postseason game is scheduled for Friday, Oct. 5 in one of the two American League Division Series. The game will air live on TBS with a first pitch time to be determined.
POSTSEASON MERCHANDISE ON SALE TOMORROW
The Astros Team Store will have the official locker room celebration Division Champions T-shirts and caps available for sale on Wednesday morning when the Team Store opens at 9 a.m. The store will remain open until 7 p.m.
INDIVIDUAL POSTSEASON TICKETS ON SALE MONDAY
Individual tickets for the Astros ALDS home games will go on-sale to the general public on Friday, Sept. 28 at 9 a.m. Fans can purchase tickets by phone at 1-877-9ASTROS and online at Astros.com/postseason. Tickets will not be available for purchase at the Minute Maid Park Box Office.
Due to an extremely limited number of individual game tickets that will be available for postseason games, fans are encouraged to guarantee their access to 2018 postseason tickets by purchasing 2019 Season Tickets, on-sale now by calling 1-877-9ASTROS or by visiting Astros.com/postseason.