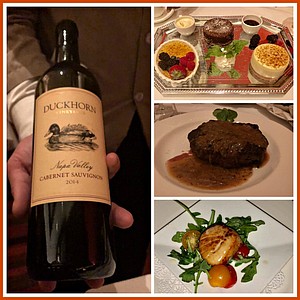 The Generous Pour is the event of Summer 2018. This year's collection featured some of the tastiest and palate pleasing Whites, Rose's, and Reds that we've tried thus far. This eclectic collection of wines paired perfectly with the steak, clams, calamari, and desserts that we enjoyed immensely at this year's sampling.
We warmed up our taste buds with a Stoli, which in my opinion is still one of the most refreshing and clean tasting cocktails that I have tasted. The pineapple apple infused vodka is kept on display in the bar area, and nothing is added to it or taken away from it. This elixir in my view just takes the edge off a rough day or night and helps stimulate the appetite.
My guest and I sipped our cocktails with seared a clam and cherry tomato appetizer. The seafood was cooked perfectly; the purple and red tomatoes were light and went down smooth with the Stoli.
Next, we moved on to a shared plate of the Pan-Fried Calamari, Prosciutto Wrapped Mozzarella, and the Lobster and Crab Cakes. These bites of freshness blended so well with the Rose' of Pinot Noir, which had a crisp, slightly sweet taste of strawberry, raspberry, and citrus zest as described in the tasting notes.
Before we could finish this plate our glasses shimmered with the Duckhorn Vinyard Sauvignon Blanc, The wine was just like the description, bright and refreshing. The tasting notes on this wine were an exact match to what we tasted with hints of citrus and honeysuckle.
The Caesar Salad and Blue Cheese Ice Berg Lettuce Wedge made a brief appearance and were polished off quickly before the steak and potatoes arrived. It wasn't long before two of the most aromatic and beautiful plates of meat appeared.

First was the Sliced Filet Mignot with Cipollini Onions, Wild Mushrooms, and Fig Essence. Shortly thereafter, the Porcinini Rubbed Bone-In Rib eye landed on our table. The meat was tender, well-seasoned, and matched perfectly with the Duckhorn Cabernet Sauvignon. The wine was robust and aromatic; one could taste thru the nose the blackberry, cherry, and espresso flavors that were prominent in the initial sip of this rich brew. My guest raved about the gravy on the Rib eye that was rich with the natural flavors of the meat and porcini mushrooms.
Finally, the evening was wrapped up with dessert and coffee, specifically, the chocolate lava cake, crème brulee, and cheesecake. The service and atmosphere was top notch and our server John was delightful and classy.
Check out the full menu on www.thecapitalgrille.com and mark your calendar for summer's Generous Pour event.