Suicide Prevention Starts With You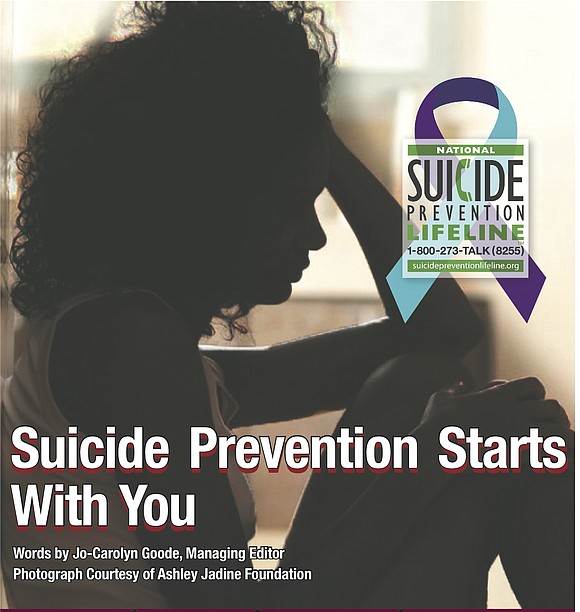 "The faster you move, the less pain you endure," is something seventeen-year-old Ashley Jadine Duncan posted on social media. Looking deeper into that statement and one can see the truth behind it. In today's society everyone is moving so fast and in so many directions not only do you endure less pain but also you don't feel, touch, hear or see it either. It is like the world has on blinders. When all have their shades on no one can see the masks everyone is wearing to hide their own pain. If no one sees the pain, then no one can help those who are hurting. The cries go unseen, unheard, and unnoticed.
On the outside, the world would view Duncan as a typical teen. Her days are so full of life with lots of friends, school activities, and successes in the classroom. She is socially engaged so her phone is always glued to her hands. As long as she is smiling and happy she is good, right? Look closer at that pic on IG. Pay attention to what she says on Twitter. Don't just mindlessly click "like."
Mindless clicking must have been what people did when they looked as Duncan's social footprint. Among her posts of "It's like God is torturing me by keeping me here," and "One bullet. One gun. One death," people just retweeted or hearted her cries for help. Family, friends, no one seemed to have any idea of how much pain Duncan was in.
Her family knew an issue existed so they sought counseling, hospitalization and even prescribed drugs for temporary fixes. However, the initial root of the pain never went away. It would resurface. Her cries for help would get louder. She would grow more tired of dealing with it all and finally said enough.
"I finally got a gun"
Duncan tweeted that sentence on January 30, 2012. One hundred sixty-five people retweeted it and fifty-one people marked it as a favorite post. But not one person thought to call her or the authorities. Moments after that post Duncan would take that very gun, put it in her mouth, pull the trigger and end all the pain.
In her suicide note, Duncan revealed that she had thoughts of killing herself since third grade. For years she thought that she had failed herself and was not good enough. She believed her life was not worth living so she ended it.
Far too many children have committed suicide and even more, have thought about it. Suicide is the second leading cause of death for people ages 10-34. According to records, more than 3,000 suicide attempts were made by children in the 9th-12th grades in 2016. Forty-five thousand people ages 10 and up were successful in 2016 at taking their own life. Those stats have to decrease to save the lives of our children. During National Suicide Prevention Month, commit to raising awareness through education and advocacy to save someone's life.
Cheryl Duncan was drafted to be the voice for who have committed suicide and the voice of those who decided against it. She is the mother of Ashley Jadine Duncan. In her daughter's memory, Cheryl started the Ashley Jadine Duncan Foundation to ignite a sense of hope in those who are experiencing hopeless. Cheryl's life has been touched by suicide twice. Seventeen years before her daughter took her own life, her sister did the same. In the years between the two suicides, Cheryl said she kept quiet but no more.