Houston-Based Mattress Firm Launches Exclusive Houston Texans Mattress Line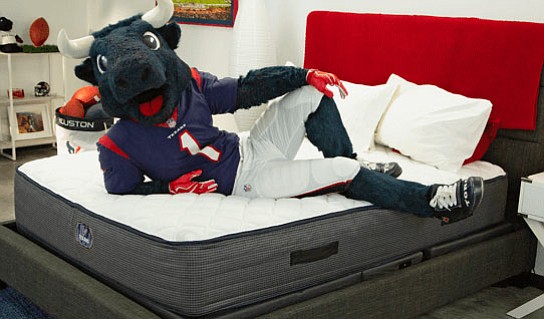 HOUSTON – The Houston Texans and Mattress Firm are thrilled to announce a new product line dedicated to Texans fans. Fans can purchase the exclusive Houston Texans product line from all 106 Mattress Firm stores in Greater Houston. In partnership with the Mattress Firm, the Houston Texans are working to make sure super fans are getting the best night sleep for an unbeatable value.
The product line will feature firm, plush and pillow top mattress options with a Houston Texans branded cover.
"As native Houstonians, we want to show our hometown pride and passion for our city by supporting our teams and our players. This is why we decided to expand our partnership with the Houston Texans to create an exclusive line of mattresses for our hometown super fans," said Casey Zuber, Vice President of Divisional Marketing for Mattress Firm. "We're sleep-obsessed and want to help Houston Texans fans get the sleep they need in style."
"We are extremely excited to expand our partnership with Mattress Firm on the Houston Texans product line including Texans branded mattresses and more," remarked Senior Vice President of Corporate Development Greg Grissom. "Our fans are the best fans in the NFL and have always supported us on and off the field. Now, they can support the team while they rest up for our next gameday."
In addition to launching the exclusive mattress line, Mattress Firm is also offering a "Texans Win Promotion." Every time the Texans win a game this season, Mattress Firm is offering 40 percent off any Texans mattress for the two days following the win. If a customer prefers a different mattress option, they can receive 20 percent off any other product in-store.
To learn more about Mattress Firm's Houston Texans line and other products, visit www.mattressfirm.com/houstontexans.