Six years cancer free, McWilliams says that she is still in fighting mode against cancer. A day does not go by that she doesn't reflect on her cancer journey or her fears of breast cancer that still linger. "You never really heal emotionally from it," she commented. "The mind is a strong weapon. Its a lot of things you have to fight daily still."
Today McWilliams is thriving in life. After years of working in education, McWilliams' life has taken a different turn post breast cancer. Now she lives in her purpose and does what she is passionate about. She had a stint working for Sisters Network Inc. and now the Shreveport, Louisiana native is an entrepreneur. She is the CEO of Infinity Cleaning Solutions, a female owned and operated commercial cleaning company and is President of SM Global Consulting, a philanthropic branding, community relations, and event production company. She lends her time to countless charitable organizations including the National Kidney Foundation, Greater Houston Women Chamber of Commerce, The Fifth Ward Enrichment Program, Colitis Foundation of America, United Negro College Fund, The Ensemble Theatre, and the list goes on. Her work has made her the recipient of numerous awards such as National Women of Achievement's Pillar of Strength Award, 2017 ABC-13 Woman of Distinction, 2018 Houston Chronicle Best Dressed, St Jude's Cancer and Research Hospital Community Award, Houston League of Business and Professional Women's Trailblazer Award, and 2018 Texas Children's Hospital Community Champion. In addition, she is affiliated with a plethora of organizations including Alpha Kappa Alpha Sorority, Inc., The Links, Inc., and the Junior League of Houston. She also sits on many foundation boards like the Greater Houston Women Chamber of Commerce. Being active in the community is her middle name.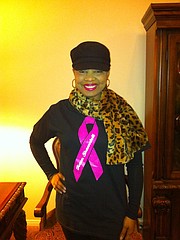 She is also a fierce health advocate preaching and encouraging others daily to do the same. "If you feel something and you know that it is not normal I would encourage them to go to the doctor. Don't ignore it. Don't put it off," she said. Her advice is to go to the doctor ready to take notes and ask questions. Don't just rely on what medical professionals tell you. Ask to see your lab results. Do your own research. "The medical team will respond differently to you when you are like that. They really respect that," she said.
Shawntell McWilliams is a walking, living testimony with a story of how she turned her fears into faith. And with faith any and everything is possible.
In honor of yourself and breast cancer awareness month give yourself the gift of a mammogram and pass the gift on to a friend. Be your own health advocate. Early detection is key!