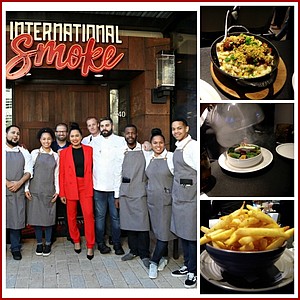 On November 14, 2018, International Smoke located at 800 Sorella Court in Houston officially opened its doors to celebrate the collaboration between Chefs Ayesha Curry and Michael Medina. The concept is noted as being inspired "from their discovery that the word "Barbecue" has different culinary interpretations internationally, which influenced the concept and menu."
We sat down briefly with Chef Curry and discussed her passion for cooking which started at a very young age. She is originally from Toronto where she enjoyed some of the best food in the world, her mother's, who is originally from Jamaica. She recalled a fond memory of having cooking as a theme for one of her birthday parties. "Her parents provided the ingredients and she and her friends cooked for the duration of the party".
During our meeting, we discussed her new cookbook called "The Seasoned Life" which contains stories of her love of family, her mom's cooking, and the importance of sitting down to enjoy a meal while "disconnecting from the world and connecting to each other." Moreover, Ayesha is a passionate gardener; recently, she collaborated with "Back to the Roots", an organic gardening company and has launched her first herb garden kit. We could have talked for hours; however, Curry was graciously signing every single cookbook of the adoring patrons that stood in line to meet her.
Our visit was at happy hour, thus, we were treated like royalty by the staff of International Smoke particularly General Manager Mark Jaesche and Vincent Tamez. We started with some bar bites, particularly the Japanese Fried Chicken, Smoked Burrata, Garlic-Rosemary Fries, and the Rib Tip Mac' n Cheese. The chicken was seasoned to perfection, crispy, and juicy.

The Burratta comes with basil pesto, grilled peppers, and beets, which was so fresh it tasted like it came straight from the garden. The Garlic Fries were well-seasoned but not overdone; they had a nice crunch to them and paired well with our cocktails.
I enjoyed a "Hendrick's" signature drink made with prosecco, lemon/lime juice, cucumbers, and mint. My guest enjoyed a "Smoked Old Fashioned" which she stated was the best that she's tasted in Houston so far. The Rip Tip Mac' n Cheese was the highlight of the bites; the noodles were creamy, cheesy, and the meat was tender, smoky, and full of flavor.
Read more about Ayesha Curry and her culinary endeavors by visiting her website: www.ayeshacurry.com. View International Smokes' full menu by going to www.internationalsmoke.com