The New Nut in the Non-dairy Milk Marketplace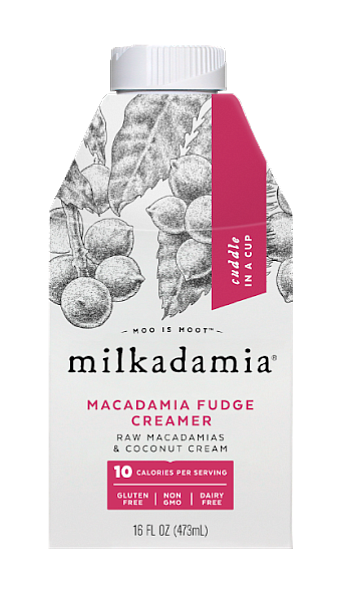 Milkadamia is a non-GMO, gluten, and soy free brand of macadamia nut milks and scintillating creamers whose sustainably farmed nuts make the creamiest and richest tasting alternative to date.
Milkadamia Highlights:
*Made from raw, never roasted, nuts for a smooth, easy flavor
*Performs beautifully in recipes thanks to its naturally creamy texture
*Regeneratively farmed with techniques that create new soil and conserve water (Macadamias are harvested from trees watered only by nature's rainfall--not artificial irrigation)
*Dairy-free, Gluten-free, Soy-free, and Vegan
*Non-GMO
*Cholesterol-free
*Excellent source of vitamins D and B12
*50% more calcium than 2% dairy milk
Milkadamia currently offers their Original, Unsweetened, and Unsweetened Vanilla milks in both shelf stable and chilled options, and their Latte Da barista blend has been popping up in households and cafes worldwide.
In July 2018, Milkadamia launched a new line of creamers in Vanilla, Unsweetened Vanilla, and Macadamia Fudge for a hint of decadence in every sip.
Milkadamia's products are available in the shelf stable section of over 5000 retailers throughout the US and freshly chilled in the refrigerated section of Walmart stores nationwide.
Learn more about Milkadamia by checking out their website milkadamia.com and their Instagram @milkadamia.