Keuchel Wins Rawlings Gold Glove Award
Left-handed pitcher named top defensive AL pitcher for fourth time in career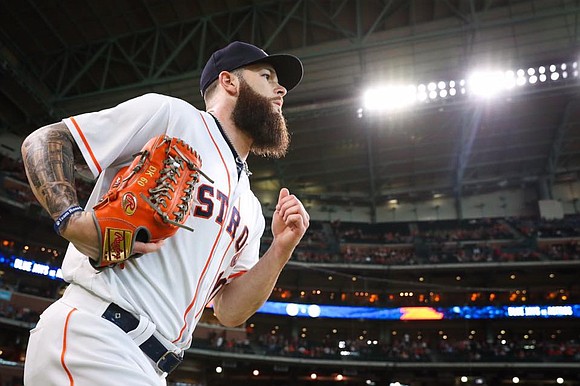 HOUSTON, TX - Rawlings Sporting Goods Company, Inc. announced tonight that left-handed pitcher Dallas Keuchel has won an American League Rawlings Gold Glove Award. This marks the fourth time in the last five seasons for Keuchel to be named the top defensive pitcher in the American League. He also won the award in three consecutive seasons from 2014-16. Astros third baseman Alex Bregman and catcher Martín Maldonado were also finalists for Gold Glove Awards, which were awarded to third baseman Matt Chapman and catcher Salvador Pérez.
The Rawlings Gold Glove Award was created in 1957, and since then the award has served as the highest symbol of defensive excellence in Major League Baseball. The winners are determined by combining votes from Major League managers and coaches with a sabermetric component.
For the third time in his career, Keuchel went a full season without committing an error (also 2013, 2016), successfully handling 41 total chances with 27 assists in 34 starts in 2018. He led all American League pitchers in total chances, while ranking tied for second in assists and tied for seventh in putouts (14). Keuchel is the only pitcher in franchise history to win a Gold Glove Award and is just the fourth Astro at any position to win four-or-more Gold Glove Awards, joining second baseman Craig Biggio (1994-97), outfielder Cesar Cedeño (1972-76) and third baseman Doug Rader (1970-74). He is the first AL pitcher to win four Gold Gloves in a five-year span since Kenny Rogers won four of five from 2002-06.
By winning a Gold Glove, Keuchel is now eligible for the Rawlings Platinum Glove, which will be given to the top defender in each league, regardless of position. The winners will be selected via a combination of a national fan vote and the SABR Defensive Index. Fan voting is housed at Rawlings.com and will begin tonight at 9 p.m. CT and close on Thursday at 9 p.m. CT.