Summer Travel Like a Pro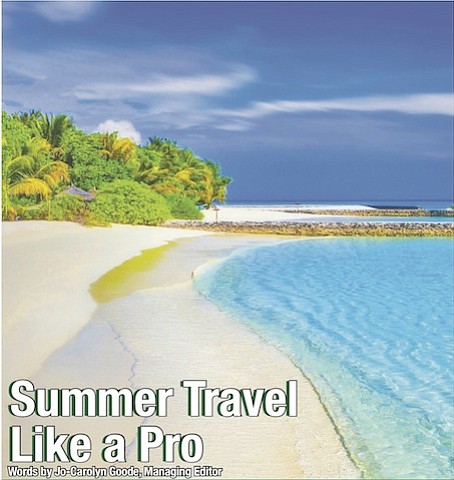 Time of Year
"As a travel addict, the best month to travel is 12 months a year," laughed Lawes. However, this is something to really consider based on your and your party's temperament. If you don't like the heat, Texas is not a good place for you in the summer. If cold is not your thing, places that are cold shouldn't be on your list. Other places have a rainy season, so avoid those places if you don't like to get wet.
Other than the weather, the time of year you travel can affect your pocketbook. In the travel industry there three seasons to travel according to Lawes.
*Peak Season (high travel season) - mid-June through August
*Shoulder Season (high and low season) - April through mid-June and September through October
*Off Season (low travel season)- November through March
Since so many general take their vacations during the summer, best believe that June, July, and August are high travel months.
Saving Money
As Lemon told and most of you know traveling is expensive and can be huge investments. But that dent in your wallet does not have to be so deep with proper planning, research, and saving. All of my experts agree that travel apps help greatly to cut cost to get deals on hotels and airfare. Hotels.com, Cheapair.com, Kayak.com, and Trip Advisor were among the ones that were most useful. Travelers noted that they were good apps and sites to not just compare rates but to also see reviews by other travelers. There is nothing better than getting the real perception of a place from someone who has actually been there. You would hate to spend all that money on a site unseen to an unfamiliar place and get there to be totally disappointed. Lawes also advised looking into apps Skyscanner, Hopper, and AirfareWatchDog for additional research.
Dos and Don'ts
My experts were ever so chatty on this subject, especially when traveling internationally. Here are just a few of the really important ones.
*Do keep a colored copy of your passport separate from the
original document. Never keep your ID in the same place as your passport.
*Don't carry a lot of cash. Do keep cash in a separate place from your wallet. Polk suggests utilizing your front pockets versus your back pockets to deter pickpockets.
*Do know the currency exchange rate. If not you will be taken advantage of.
*Do learn the customs and laws of the place you are traveling.
*Don't get arrested (this goes without saying.)
*Do research the place you are going to get the most out of your visit.
*Don't travel at night by yourself.
*Don't stay in your hotel room for too long. The whole point of
going somewhere is to experience the locale.
*Do scope out the US Embassy if traveling to a foreign country.
*Do try new foods. Also, pack your stomach medications to be on the safe side if you get sick.
*Do have loads upon loads of fun and adventure.