Summer Travel Like a Pro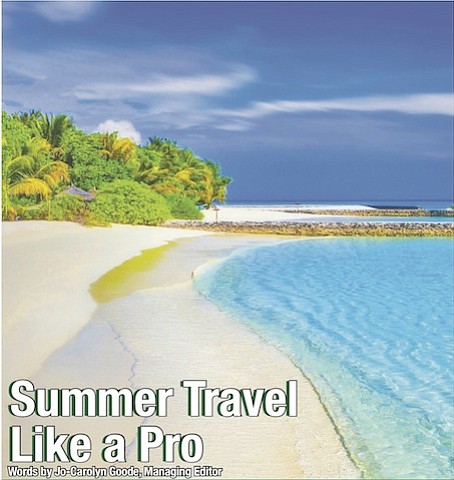 Basking in the rays of the sun on the white sandy beach overlooking the clear blue water. Relaxing under a blanket of stars scattered in the midnight sky. Letting your cares rollaway while lounging in a hammock on a lazy afternoon. Making memories to last a lifetime while enjoying the company of family and friends. These are the scenes that will be replayed throughout the summer by millions as they make footprints across the globe jet setting to get a break from reality. The summer travel season is upon us once again. As we prepare to drive, fly, cruise, and trek to various destinations in our world we need to be ready to get there and be ready for anything once we arrive. And like a Girl/Boy Scout is always prepared, Houston Style Magazine has tapped some expert globetrotters to help you get ready and stay ready so you can travel like a pro this summer.
Where to Go
Easily one of the hardest decisions to make whether you're traveling alone or with a group. It goes without saying that this needs to be your first decision in making travel plans. Before zooming in on a destination thinking about the people you're traveling with and the experience you want to have. Certain places are more family friendly. Some countries have customs in regards to women. Some places have a party atmosphere and others are bit mundane. Also consider the reason you want to go to that place, the activities you want to do while there, and, of course, your budget has to be at the forefront of your mind.
Travel agent Sherina Lawes of La'Maison Events Traveling and Tingz says some of the hottest places to travel to that she is booking for her clients have been destinations out of the country. The most popular being are Jamaica, Dubai, Costa Rica, Aruba, Greece, Morocco, Bali, Seychelles, Iceland, Cuba, Croatia, and Thailand. Inside the borders of the U.S. travelers have been booking trips to Washington, D.C., Florida, and South Carolina.
These are definitely in line with locations that my panel of travel experts like to go. Michael Polk and La'Torria Lemon are those fortunate folks who get to do a lot of traveling for their careers and pleasure. Already Polk has traveled to 33 countries so he is always in the air. His favorite place to go is Naples, Italy. "It is a place for that history buff, a beach bum, a foodie, or someone just looking for a romantic getaway," said Polk as he boasted about Italy's food and shopping scene. Lemon has been to 3 countries. She plans to travel to Cabo this summer but admits San Juan Puerto Rico has been her favorite places because the natives are so loving and full of joy. The island of Jamaica is the place for Bayana Sumbry-Taylor, who have been to 20 countries. "I feel at home there," said Sumbry-Taylor. "Jamaica is very unpretentious and laid back. Its natural beauty is relaxing and good for the soul."