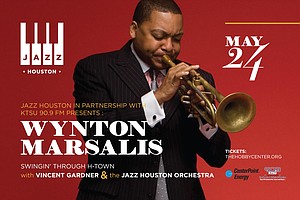 Grammy and Pulitzer Prize-winning trumpeter and composer, Wynton Marsalis will perform with the Jazz Houston Orchestra for one night only, Thursday, May 24, 2018, 7:00pm at The Hobby Center for Performing Arts, located at 800 Bagby Street, Houston, TX 77022. The upcoming show, "Wynton Marsalis: Swingin' Through H-Town," closes out Jazz Houston's inaugural 2017-2018 season and is hosted in partnership with KTSU, 90.9FM.
"Having Mr. Marsalis, Jazz's most prominent living musical ambassador, and my long-time musical brother and bandmate join us to conclude our first season of performances is an honor. The show will not only allow his fans to see and hear him live, but it will introduce him to new audiences and allow them to experience the hard-swinging and grooving compositions being performed by our own Jazz Houston Orchestra that evening," said Gardner.
The concert reunites Gardner with the legendary Jazz musician, who serves as Artistic and Managing Director of Jazz at Lincoln Center, which is celebrating their 30 year anniversary. While Gardner is the current Artistic Director of Jazz Houston and leader of the 15-member Jazz Houston Orchestra, he remains a member of the Jazz at Lincoln Center Orchestra, where he has performed since 2000.
It has been more than 15 years since Marsalis has had a solo performance in Houston. The show will consist of music arrangements written by both Marsalis, Gardner, and others. The May 24th performance is the final show of the 2017-2018 concert series that began in November with a themed performance dedicated to the music of Ella Fitzgerald. In March, the program hosted the Young People's Concert titled "Who is Ella Fitzgerald?" The show was performed at Westbury High School and introduced and educated students on the celebrated jazz artist and her music.
For more details and ticket information visit www.jazzhouston.org.