Camp Kammok Elevates Camping With Annual Retreat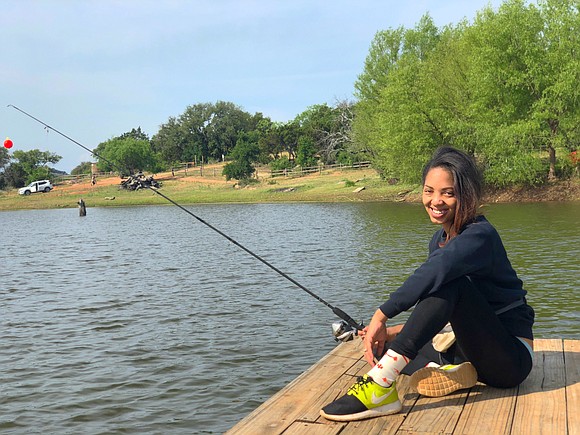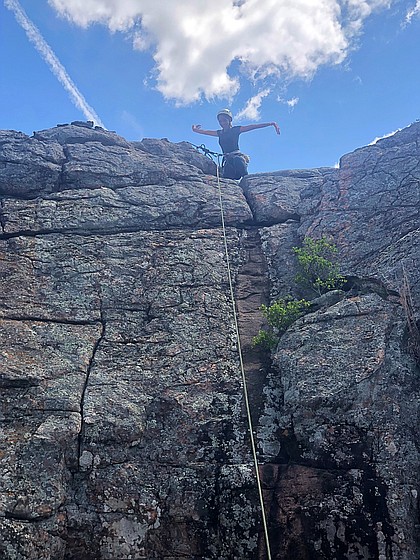 After a brief lunch back at camp, it was time for my final activity of the day, rock climbing. A group of us climbed into two vans as we - slowly, very slowly - made our way through a series of hills, eventually ditching the van to hike up to a waiting mount where we were given instructions on how to properly climb and more.
Now I've done indoor rock climbing before, but nothing prepared me for scaling mountain walls. Still, I said I wanted an adventure and there I was. The first climb was easy, the second forced me to try a harder path, and when I reached the top of a boulder I was happy that I had.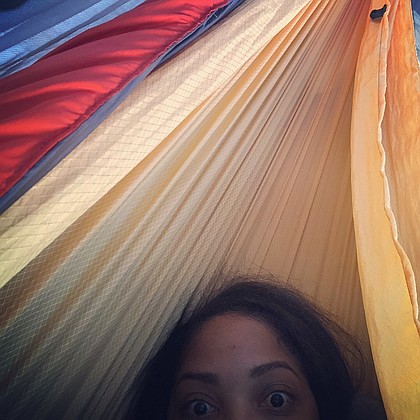 That evening we were treated to a great mix of live art and music, as Dallas based artist B.R. Lively charmed the crowd with an early performance before dinner. In addition to a special outdoor screening of The Goonies, we also ended the night with s'mores - which I somehow missed both nights - and a great event called the "Silent Disco" that put a creative twist on the silent party concept, allowing campers to party to a number of playlists through headphones provided by the camp.
The evening also included a moment of gratitude in which campers were asked to come together to describe something that they were thankful for that weekend. For me, it was easy: new experiences.
By last day it was finally time to wind down, but first I scratched yet another experience off my bucket list, as I finally got the chance to fish. Unfortunately, I also discovered that I am terrible at it - but like everything else that weekend, I was determined to at least try.
Those looking for a well-planned camping experience will fall in love with Camp Kammok, thanks in part to its beautiful scenery, incredible staff, and excellent activities led by a great group of instructors.
As my guest, Angela Marbley explained, "I loved the staff because you could tell that they really believed in what they were doing, everyone's passion was clearly on display."
"It was definitely something that I would think about asking my family to do. I felt comfortable to have those new experiences in a safe environment with experts. Everything they offered, they had an expert, which immediately put me at ease. So I can definitely see myself going again," she added.