Leukemia Texas to Host Inaugural HOU "Concert for a Cure" at The Irish Cowboy
Benefit Concert to Support Leukemia Patients and Leukemia Research in Houston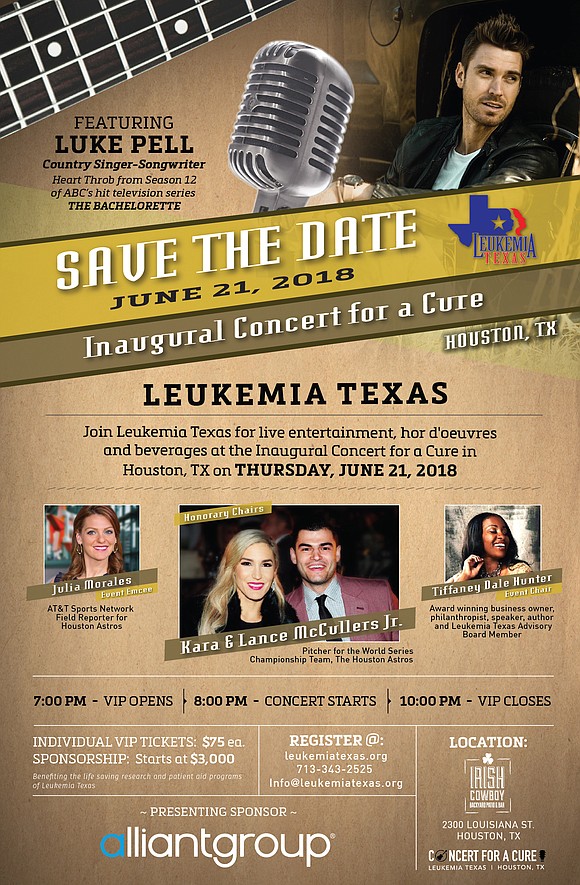 Houston, Texas (March 13, 2018) – Leukemia Texas is pleased to host its inaugural Houston "Concert for a Cure" taking place at The Irish Cowboy on Thursday, June 21, 2018 at 7 p.m. Lance McCullers, Jr., pitcher for the World Series Championship Team, The Houston Astros, and his wife Kara have been announced as the Honorary Chairs. Award-winning business owner Tiffaney Dale Hunter will serve as the Event Chair, and AT&T Sports Reporter, Julia Morales, will be the Emcee for the evening.
"This inaugural Houston charity concert will be an exciting event that will increase the awareness of Leukemia and the many ways that the local community can assist in the fight against this disease," said Tiffaney Dale Hunter. "The funds raised will go directly towards leukemia research and aid for patients that are right here in our great city of Houston, Texas."
In addition to awarding millions of dollars to leukemia patients and scientific researchers, Leukemia Texas is also known for its spectacular fundraising events that include "The Beat Leukemia Ball", "Fly Fore Leukemia", and "The Leukemia Texas Golf Classic." Houston's inaugural "Concert for a Cure" is being supported by Presenting Sponsor, alliantgroup, and is certain to be just as amazing with an energetic evening filled with exciting highlights that include lively entertainment by country singer-songwriter Luke Pell, who also appeared on Season 12 of the Bachelorette and this year's Bachelor Winter Games. Guests will be able to enjoy tantalizing appetizers, signature cocktails and exciting giveaways. Guests will also hear inspiring testimonials from leukemia survivors and fighters. VIP tickets for the inaugural Houston "Concert for a Cure" are $75 and sponsorships start at $3000. Both are available for purchase online at www.leukemiatexas.org.