On Sickle Cell Awareness Day, Dr. Corey Hebert and Ebony Announce Health Partnership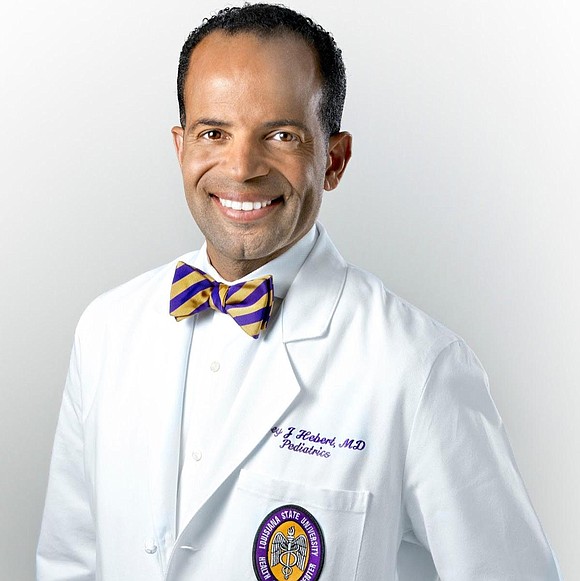 NEW YORK (June 19, 2018) — Dr. Corey Hébert, M.D., aka "The Doctor for The People," and EBONY today announced a partnership to bring awareness and advocacy regarding health and wellness content to the EBONY.com audience. Launching on Sickle Cell Awareness Day 2018, EBONY.com features an informative video about the origins and effects of sickle cell on the Black community.
Dr. Hébert is a physician, journalist, television personality and educator practicing in New Orleans. In addition, he is a media entrepreneur and co-founder of Community Health TV and College Health TV. He is the on-air chief medical editor for WDSU-TV, the NBC television affiliate in New Orleans and has appeared on CNN, ABC, NBC, CBS and The Dr. Oz. Dr. Hébert is the chief medical officer at Dillard University and is also an assistant professor at LSU Health Sciences Center and Tulane University.
"Launching our content partnership on Sickle Cell Awareness Day, June 19, 2018, we are shattering myths about this horrible condition. We also need to increase research and treatment of sickle cell disease, which is an inherited condition that affects nearly 100, 000 Americans. African-Americans need a trusted medical voice in the health information space, and that is what this partnership with EBONY.com will accomplish," says Dr. Hébert. "Our mutual goal is to inspire, educate and engage the EBONY.com audience in a dialogue about the importance of living a healthier lifestyle."
During several produced videos, Dr. Hébert will cover key topics in health care today, including cancer, diabetes, general health, wellness, diet, women's health and more. Each video will focus on a specific aspect of a condition or treatment and also relevant breaking health news to help our viewers make healthier lifestyle choices. The collaboration with Dr. Hébert offers new opportunities and offerings for EBONY to reach an audience of targeted health consumers.
"Dr. Hébert has a wealth of institutional knowledge and incredible passion for the African-American community. As a partner, he will provide critical support and tools to enhance health awareness by tackling fears, educating the unaware and offering topnotch solutions and resources," says Linda Johnson Rice , CEO of EBONY Media Operations.
EBONY.com followers will find Dr. Hébert via the new EBONY.com health channel, which debuts on June 19, 2018.