DIY brings high throughput to continuous cell culturing
Open-source eVOLVER can support 96-chamber automated growth experiments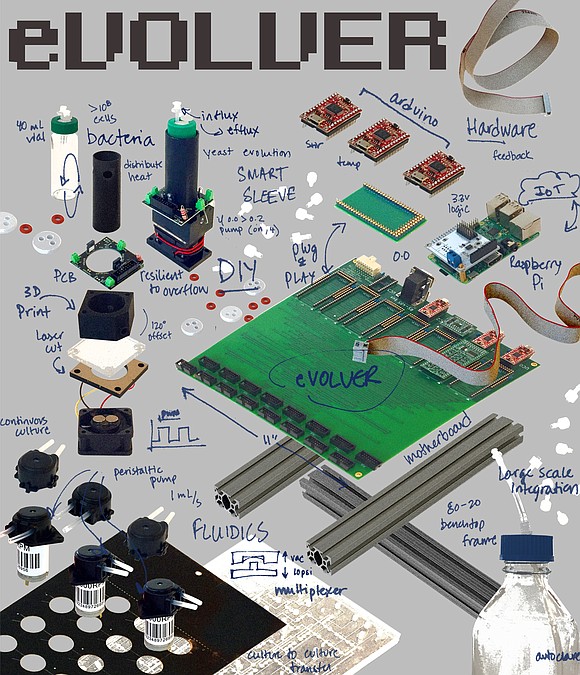 HOUSTON -- (June 11, 2018) -- Rice University's Caleb Bashor never planned to be an inventor or do-it-yourselfer, but there was no other way to do the microbiology experiments he envisioned.
In a paper appearing online this week and on the cover of July's issue of Nature Biotechnology, Bashor and colleagues from Boston University (BU) and the Massachusetts Institute of Technology unveil eVOLVER, a system that combines the control of automated cell-culturing systems that can run continuously for months with the scale of high-throughput systems that grow dozens of cultures at once.
Bashor, assistant professor of bioengineering at Rice, first thought of the idea for eVOLVER three years ago while working as a postdoctoral researcher at BU.
"One thing we were working on was antibiotic resistance," he recalled. "A lot of times, antibiotic resistance shows up when you administer the drug continuously. So I was thinking, what if you administer it in pulses? How long are the pulses? Where do you see antibiotic resistance evolve? Where do you see it not evolve? Is there a way to systematically see what the temporal features of antibiotic administration gives you?
"If you plan a time course and say, 'I want to do this one every 15 minutes, I want to do this one every hour,' and so on, you quickly realize that it's impossible without automation," he said. "Not to mention that antibiotic resistance often shows up in time scales of weeks rather than days. You need something automated that can run for several weeks, with dozens or hundreds of samples that are individually controlled and monitored."
Bashor, a trained biochemist and synthetic biologist, knew that no off-the-shelf device existed for such an experiment, and combining standard bioreactors in a high-throughput setup would require entire rooms of space and cost hundreds of thousands of dollars.
"I was aware of the do-it-yourself electronics culture, and I kept thinking, 'There has to be a way to make this that's not terribly difficult and would be relatively cheap,'" he said. "I started looking at microcontrollers. I started looking online at electronics catalogs and materials, and I thought about, 'Okay, what are the materials we could use?' 'How do we keep this simple?'"
The earliest collaborators on the project were study co-authors Ahmad "Mo" Khalil, assistant professor of bioengineering at BU, and Brandon Wong, a graduate student in Khalil's group. Together, the three and other collaborators worked on eVOLVER in their spare time, designing the electronics, fluidics, culture chambers and the software that would both control each chamber and report results.
"The software was a challenge," Bashor said. "I wrote a little loop in MatLab to control like a half-dozen cultures, and better coders took it from there and elaborated on it. The code got quite enormous actually."
The group struggled to find code that could report, record and track all variables across all time scales in each culture chamber but eventually struck gold with software that was originally designed to track stock prices.