Wynton Marsalis and Jazz Houston Orchestra Performed for Sold Out Crowd at the Houston Hobby Center and a Special Performance at the Houston Public Library
Grammy and Pulitzer Prize Winning Trumpeter and Composer Returned to Houston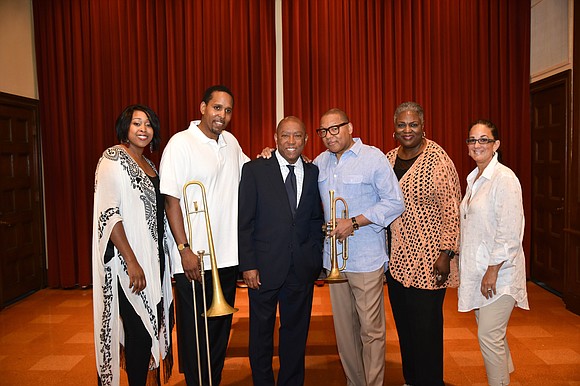 (June 4, 2018, Houston, TX ) Grammy and Pulitzer Prize-winning trumpeter and composer, Wynton Marsalis performed with the Jazz Houston Orchestra on Thursday, May 24, 2018, at The Hobby Center for Performing Arts, and on Friday, May 25th at the Houston Public Library, Barbara Bush Plaza. "Wynton Marsalis: Swingin' Through H-Town," closed out Jazz Houston's inaugural 2017-2018 season.
On Thursday, May 24th, Wynton Marsalis returned to Houston after 15 years and performed with the Jazz Houston Orchestra under the direction of Vincent Gardner at the sold-out, Houston Hobby Center. The concert reunited Gardner with the legendary Jazz musician, who serves as Artistic and Managing Director of Jazz at Lincoln Center, which is celebrating their 30-year anniversary. While Gardner is the current Artistic Director of Jazz Houston and leader of the 15-member Jazz Houston Orchestra, he remains a member of the Jazz at Lincoln Center Orchestra, where he has performed since 2000.
"Having Mr. Marsalis, Jazz's most prominent living musical ambassador, and my long-time musical brother and bandmate join us to conclude our first season of performances was truly an honor. The show at the Hobby Center allowed fans to see and hear him live and introduced Wynton to new audiences while also allowing them to experience the hard-swinging and grooving compositions performed by our own Jazz Houston Orchestra," said Vincent Gardner.
On Friday, May 25th, Wynton Marsalis, and Jazz Houston offered jazz appreciation experiences for music-lovers of all ages as part of the Swingin' Through H-Town education program. Attendees included students from Houston Independent School District, Peterson and Montgomery Elementary and seniors from Precinct 1, Commissioner Rodney Eilis' Senior Adult Program. City of Houston Mayor, Sylvester Turner greeted attendees and introduced Wynton Marsalis and the Jazz Houston Orchestra under the direction of Vincent Gardner. The audience was engaged and enlightened as the entertainers performed and facilitated lessons about each instrument.
"Friday's performance was phenomenal as we engaged audiences of all ages with a variety of jazz tunes! The audience, especially the kids loved the interaction," said Gardner. The May 24th performance was the final show of the 2017-2018 concert series that began in November with a themed performance dedicated to the music of Ella Fitzgerald. In March, the program hosted the Young People's Concert titled "Who is Ella Fitzgerald?"
Save the Dates: Jazz Houston kicks off its fall season October 13th Vincent Gardner and the Jazz Houston orchestra with Ramsey Lewis at the Miller Outdoor Theater. Saturday, December 1st, Jazz Houston presents The Jazz at Lincoln Center Orchestra with Wynton Marsalis "BIG BAND HOLIDAYS" at the Cullen Performance Hall at the University of Houston. For more information visit www.jazzhouston.org.