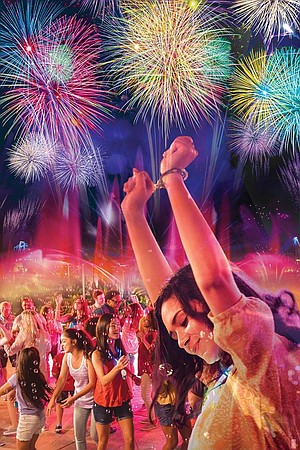 SAN ANTONIO, TX (June 6, 2018) – One of the country's leading destinations for family travel, San Antonio is home to a wide array of attractions, accommodations, and events geared toward families and ideal for both kids and adults. This year marks the city's Tricentennial anniversary and is an especially great time for families to experience the Alamo City with major developments and improvements citywide.
In addition to its affordability, San Antonio is known for being exceptionally accommodating to children with numerous restaurants serving gourmet food next to play areas, plus world-class theme parks and adventure parks.
A sample of summer highlights for the ideal family getaway in San Antonio:
FUN:
Hemisfair: San Antonio's newly revamped Hemisfair is a multi-use space originally built for the 1968 World's Fair that is an urban oasis for families. Home to iconic San Antonio landmarks such as the Tower of Americas and the UTSA Institute of Texan Cultures, the park is now full of activities for children, including a 4.1-acre play environment named Yanaguana Garden. Yanaguana Garden is designed for all ages and abilities with playscapes and a large splash pad. Just a few steps away, parents and kids can enjoy various gourmet food options at one of Hemisfair's locally owned eateries, including a refreshing treat of Mexican-style paletas.
San Antonio Botanical Garden: The newly-expanded San Antonio Botanical Garden recently debuted a Family Adventure Garden featuring 15 unique spaces encouraging unstructured play and exploration. Kids can run up and roll down Tumble Hill, find their way through the Muhly Maze and trek through Thunder Ridge, where a clap of thunder starts a water play adventure in the No Name Creek.
Six Flags Fiesta Texas: Six Flags is always a hit with families, and thrill seekers will love the new Wonder Woman Golden Lasso Coaster at Six Flags Fiesta Texas, the world's first single-rail roller coaster. The ride features single-seat trains in themed colors of red, gold and blue, and guests are surrounded by tropical landscaping and fun ancient architecture from Themyscira, Wonder Woman's island home.
SeaWorld San Antonio: In addition to a wide array of memorable sea life encounters, families visiting SeaWorld San Antonio will have access to flips and thrills with rides such as the newest waterslide, Taumata Racer, a high-speed competitive mat ride featuring six riders racing down a staggeringly steep hill. This summer, visitors will enjoy the Sesame Street Parade, a daily event featuring everyone's favorite Sesame Street friends, 10 themed floats, contemporary tunes, including Sesame Street favorites, and three show-stopping performances along the parade route.
The DoSeum: Located just north of historic downtown, The DoSeum is San Antonio's interactive museum for kids aged 0-10. Many of the museum's exhibits, focusing primarily on science, technology, engineering, art and math, don't exist anywhere else in the country. There's a spy academy that encourages children to solve problems with math, an interactive robot named Baxter, a puppet parade, a musical staircase, a tree house that is ADA-accessible and an expansive outdoor play area. Starting this summer, The DoSeum is celebrating San Antonio's first 300 years by looking ahead to its future. Its special Tricentennial exhibit, Dream Tomorrow Today, features design labs, augmented reality (AR) stations and more. Families are invited to leave the past behind as they slide through time and are transported to a better tomorrow—one they create themselves.