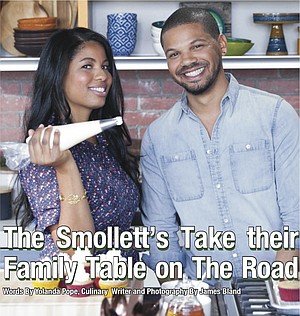 Many of us have fond recollections of our family meals, which usually took place at the big table with our parents, grandparents, and siblings. The Smollett's: Jazz, Jurnee, Jake, and Jussie share some of their memories, moments, recipes that are compiled beautifully in a cookbook called "The Family Table".
In this heartfelt tale of a loving family, delicious food, and a life travel, the siblings express some of their best memories of sitting down at the family table, which was usually a handcrafted wood project that was created by their mom Janet.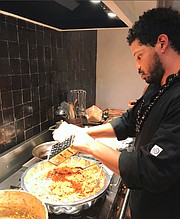 In fact, the photo on the cover of the cookbook is her creation also. " No matter we ended up, there were two constants in our life: big weekly family feasts and a long communal kitchen table."
The book was released April of 2018 and the Smollett's have taken to the road to promote this endeavor that showcases their culinary skills and love of delicious food. Their mom was raised in New Orleans, which is evident in some of the hearty dishes that are illustrated in this story of family feasts.

Recently Houston was blessed to be on the stop of the book tour and we had a visit from Jake Smollett who is number 5 of 6 children born in a multicultural family consisting of an African American mother and a Jewish father.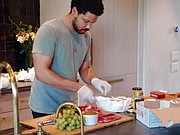 Speaking with Jake was akin to conversing with an old friend who really knows how to cook and enjoy the food. He expressed his passion for everything culinary, which he gives so much credit to his mom for insisting that the family sit down and have dinner no matter how busy their lives became at times.

Moreover, Jake is not a classically trained Chef; however, he explained how he indulged his passion for the kitchen by traveling and training with individuals who knew how to create the foods he loved. For example, he went to Italy and learned how to make pasta from scratch and other authentic Italian dishes from chefs who specialized in the cuisines of the regions where he was visiting.
Smollett also let us know that he thinks Houston's food scene is "off the chain"; he loves spicy foods, and a variety of ethnic foods. Jake stated that he frequently pairs food with cocktails, anything from wines and champagnes to a good mohito. He describes himself as "festive" when it comes to his particular style.
If you're in New Orleans this weekend for Essence Festival, catch up with the Smollett siblings on Saturday, July 7, 2018, where they will have some live cooking demonstrations scheduled throughout the day.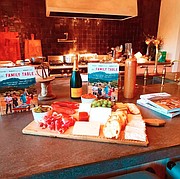 .