Black Lives Matter Global Network's Response to Trump's First State of the Union Address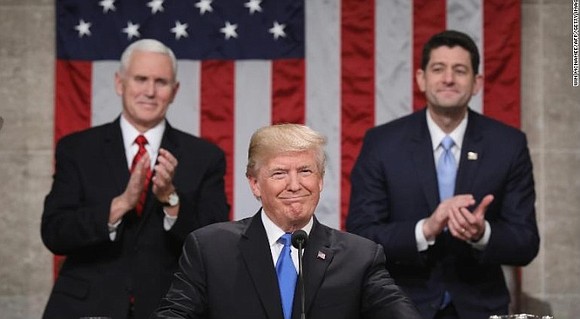 Minneapolis, MN -- In a speech riddled with lies and half-truths distorting the performance of his administration, Donald Trump delivered his first State of the Union address to the nation.
In response, Black Lives Matter Global Network released the following statement:
"It's no surprise that Donald Trump would double down on his racist, xenophobic, misogynist agenda in his first State of the Union address.
Trump's first year in office has been marked by instability and policies reflective of its leader. Our people have been forced to endure travel bans. We've been stalked by ICE agents in public and in our homes. We've heard our countries called shitholes in the Oval office. Trump's repeated attacks have forced millions to contend with possibly losing their healthcare, women in our cities and small towns have lost access to care, and millions of children lost coverage for more than three months.
This is Trump's America.
Black people, immigrant and Indigenous people, the poor, women, our LGBTQ family -- you name it -- are the ones paying the biggest price. Surrounded by enablers bent on wiping out our existence, we've seen it all. We can no longer allow Trump's dangerous policies to harm our families and our communities.
Our people are rising up. From Jemele Hill to Jay-Z to Colin Kaepernick, we will not give up our dignity without a fight. We will continue to show up and show out for restoring our communities, whether it's ensuring our communities are free from police overreach and outright murder, to economic opportunity and justice in this capitalist system, to the fight to ensure our Black mothers get the care, time and space they need to survive childbirth.
Trump will not deter us from achieving the liberation our people deserve."