Alpha Kappa Alpha Mentors Students to ASCEND to Greater Dimensions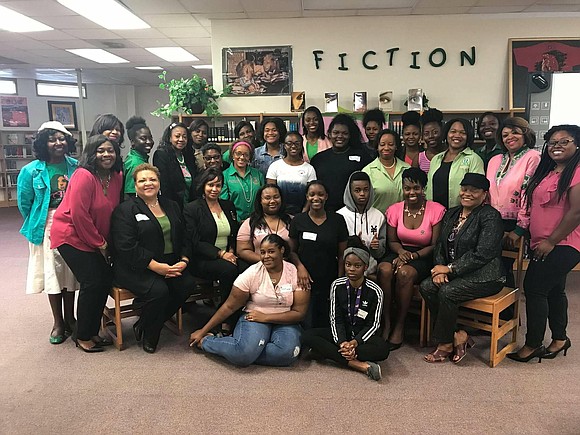 Putting any person in a box limits their opportunities. They have no room to grow and flourish. There is no new path to travel. No new discoveries to be made or challenges to tackle. However, when someone comes along to remove one side of the box a whole new world opens. Mentors do that for children by exposing them to the world beyond their limited space for a better future.
Through the years, the ladies of Alpha Kappa Alpha Sorority, Inc. have constantly worked to remove children out of the box that they may be in through mentorship and exposure. Over the past four years, the sorority has adopted the signature program of ASCEND to enrich the lives of high school male and female students. ASCEND is an acronym meaning Achievement, Self-Awareness, Communication, Engagement, Networking, and Development Skills. It is part of the sorority's Target I: Educational Enrichment focusing on academic, life, career, and character-building skills. This youth enrichment program has impacted nearly 37,000 students and counting since January 2015. Adding to those impressive numbers locally is the Alpha Kappa Omega Chapter of Alpha Kappa Alpha Sorority, Inc.
On average 25 students are mentored by the ladies over the course of a year. During their monthly meetings with the AKAs, students engage in STEM and SMART career activities, college and career readiness workshops, go on cultural outings, serve their communities and become global citizens through a Model UN simulation. Former chapter president and vice president LaDonna Harris and Karen Aubrey headed the local program for the first two years and now current chapter president and vice president & program chairman Marsha Penn and Cherise Story now head the program in its final two years.
Usually, the ladies serve youth from various areas of Houston but in this last year for the program decided to focus their attention solely on the students of Jack Yates High School. Story excitedly told of how the students have already given back to their communities by serving breakfast to children over the holidays at the Blue Triangle's annual Breakfast with Santa and filling backpacks with food through a partnership with Blessings in a Backpack. NASA engineers and other scientific professionals have sparked the students' interest in science, math, and technology through cool activities like coloring milk and speaking about the many SMART careers. "We want to get them ready to go out into the world," added Story.
A program like this takes more than individuals willing to serve but also funding. Dow Chemical has given the local program a major boost of a $16,000 promise grant through an initiative to impact African American students in disadvantaged areas. Alpha Kappa Omega will use the funds to host an ASCEND Summit on April 14th in association with the other Houston Metropolitan Area Chapters of Alpha Kappa Alpha Sorority, Inc. leading up to the sorority's national convention that will be hosted in Houston this summer.
ASCEND students' scope of vision is widened by the ladies of Alpha Kappa Alpha Sorority, Inc. because it allows them to dream bigger than they imagined for themselves. "It is so heartwarming to see someone break out of their shell…. to see something different than what they see in their circumstances every day," said Story.
Through the ASCEND program, the ladies are ensuring that today's youth are prepared to take the next step towards their future goals whether that be to a 4-year university, trade school, or another career path. Many who have gone through the program have returned to thank the ladies for their influence and to give some words of wisdom to current ASCEND students.
From now until years to, come the AKAs will always be ladies who serve. Penn put it best when she said, " I serve as a way of uplifting and helping others have an easier and more joyful life here on this earth." The ASCEND program gives today's youth a better tomorrow.