GM Earns Top Honors in the IHS Markit Loyalty Awards for the Third Year in a Row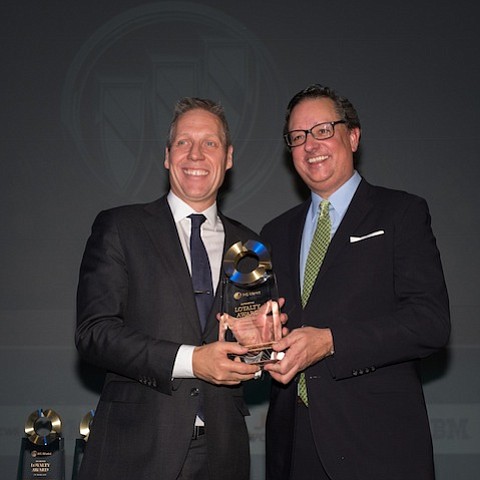 DETROIT -- For the third year in a row, IHS Markit, a leading source of global automotive industry information, analysis and insight, has recognized General Motors as the company with the highest overall customer loyalty. Buick was also recognized with an award for the Most Improved Loyalty to Make during the 2017 model year. The announcements were made last night at the Automotive News World Congress held in conjunction with the North American International Auto Show.
IHS Markit loyalty awards are presented annually to companies and brands that demonstrate the ability to retain owners over repeat buying cycles. They are based on consumer transactions and information obtained from state registration and lease transaction information.
"Three years as the industry leader in loyalty shows that the customer-focused investments our brands and our dealers are making in new products, new facilities and the ownership experience continue to pay off," said Alan Batey, president of GM North American and Global Chevrolet. "Industry-leading loyalty and strong conquest sales are leading to the most robust growth we have seen in decades."
In 2017, GM and its brands set several sales records:
Chevrolet grew its retail market share and improved its resale values for the third consecutive year.
Chevrolet and GMC combined earned more than 75 percent of the market for large SUVs for the fourth consecutive year.
Chevrolet and GMC led the industry in full-size pickup sales for the fourth consecutive year because they are the only brands with a three-truck strategy, including mid-size, light duty and heavy duty models.
Chevrolet sold a record number of electric vehicles, including more than 43,600 Bolt EVs and Volts.
GM grew its share of the retail crossover market more than any other manufacturer, thanks to new models like the Cadillac XT5, Chevrolet Equinox, Chevrolet Traverse and GMC Acadia.
Chevrolet was the fastest growing crossover brand on a retail sales basis, and crossovers helped GMC deliver its best annual total sales since 2005.
The company's crossover momentum is expected to continue in 2018, which will mark first full year of sales of the all new Chevrolet Equinox and Traverse, the GMC Terrain and the Buick Enclave and the Regal TourX.
Buick's loyalty award came after the brand delivered its best calendar year sales since 2004.
"Buick offers the unique brand promise of attainable luxury, with a fresh and broad vehicle lineup supported by an awarded sales and service network," said Duncan Aldred, vice president, Global Buick and GMC. "Loyalty is one of the best signs that customers value what we bring to them and we will continue to deliver on the things that keep our family growing."
The Chevrolet Equinox, Volt and GMC Yukon Denali XL each received the top award in their segment for loyalty. Both the Volt and Yukon Denali XL were also segment winners in 2016. Denali deliveries, including Yukon Denali, set a monthly and full-year record, with penetration approaching 40 percent in December and 30 percent for the year.