Houston Area Urban League Young Professionals Host Fifth Installment of Opulence Despite Harvey Effects Drawing Dozens to Alternative Nightlife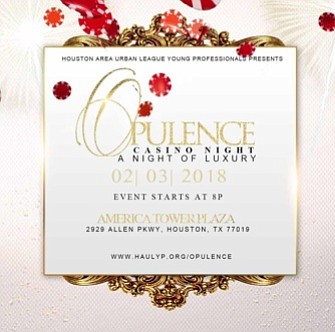 HOUSTON, TX, January 3, 2018 – Feb. 3, 2018 marks the fifth installment of Opulence Casino Night, Houston Area Urban League Young Professionals' (HAULYP) signature fundraising event. Hosted at America Tower Plaza, Opulence provides an alternative to the common club or lounge options for nightlife.
In 2016, the event drew over 170 guests and, through sponsorship and ticket sales, raised $17,450 for the Houston Area Urban League (HAUL). As the Young Professionals' largest fundraising event of the year, Opulence funds efforts in progression of Houston-area minorities through education, affordable housing, entrepreneurship, and more. Specifically, it funds programs hosted by HAULYP.
Established in 1999, HAULYP is an award-winning chapter and leader in innovation, programs, and promotions. With an ever-growing membership, a digital network of over 3,000, and social following of over 6,000, this diverse group of young professionals is impacting the Houston community every day through Hurricane Harvey relief, social events that create a networking platform, and meetings filled with valuable professional and political information.
After being postponed due to Hurricane Harvey, Opulence will be held Saturday, Feb. 3, 2018, 8pm-12am at America Tower Plaza. Hors d'oeuvres and an open bar will be provided, and a discounted ticket package will be available at a HAULYP signature semi-annual membership drive, ​Lounging With the League​, Jan. 24, 2018. For more information and tickets, visit ​haulyp.org/opulence.