Dior Beauty Look: Zoey Deutch at the 2018 Golden Globe Awards Post-Parties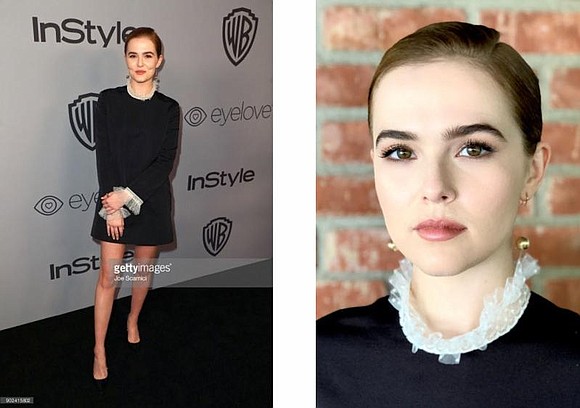 DIOR
PRESENTS
ZOEY DEUTCH
2018 Golden Globe Awards Post-Parties
JANUARY 7, 2018
BEVERLY HILLS, CALIFORNIA
Makeup Artist Lauren Andersen
Dress By Dior
GET THE LOOK - MAKEUP
INSPIRATION: "As Zoey was dressed in a dark color, we went for a feminine lip to soften up her look and a strong brow to compliment her black attire."
SKIN: To prepare the skin, I applied Dior Capture Youth Age-Delay Advanced Cream along with Dior Capture Glow Booster Age-Delay Illuminating Serum.
FACE: I used Diorskin Forever Undercover in #014 Fair Almond as Zoey's base.
CHEEKS: For a natural highlight, I applied Diorskin Nude Air Luminzer Powder in #001.
BROWS: To achieve a strong brow, I used Diorshow Brow Styler #001 Universal Brown.
EYES: I applied Dior 5 Couleurs Eyeshadow #647 Undress over the eyes for a subtle look and finished the look using Diorshow Pump'N'Volume Mascara #090 Black Pump for bold lashes.
LIPS: To soften Zoey's look, I lined the lips with Dior Contour #169 Grege then applied Rouge Dior Lipstick #169 Grege 1947 to finish off the look."
DIOR PRODUCT USED:
SKIN:
Dior Capture Youth Age-Delay Advanced Cream
Dior Capture Glow Booster Age-Delay Illuminating Serum
FACE:
Diorskin Forever Undercover Foundation #014 Fair Almond
CHEEKS:
Diorskin Nude Air Luminzer Powder #001
BROWS:
Diorshow Brow Styler #001 Universal Brown
EYES:
5 Couleurs Eyeshadow #647 Undress
Diorshow Pump'N'Volume Mascara #090 Black Pump
LIPS:
Dior Contour #169 Grege
Rouge Dior #169 Grege 1947
All products available on Dior.com