Black Panther: A Marvel Film Breaking Expectations and Records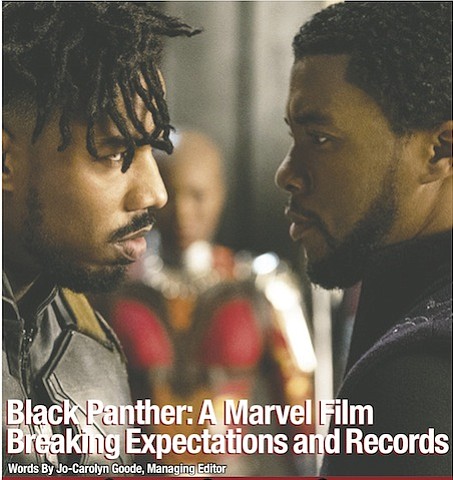 This was the first time I saw a film where it felt like the crowd was part of the movie. Walking through the theater was like seeing the film previews live. People were dressed in African prints from head-to-toe. The traditional greeting of "hey" and "hello" are no longer efficient, but have been replaced with the new greeting of crossing your arms over the chest with your hands in fists.
"Black Panther" made African Americans proud for its depiction of showing superheroes that look like them, celebrating the strength of black women, and encouraging girls to go into STEM careers. Thus prompting many to take on the #BlackPanther to get children out to see the film. T.I. partnered with Walmart to give out free tickets. Many celebrities like Octavia Spencer, Viola Davis, Sheryl Underwood, and Jemele Hill have rented theaters or donated to help as many children as possible see this film. One New York man raised $500K through a Go Fund Me account to send some Harlem kids to the movies. One of Houston Style Magazine's own writers, Demez White, funded some kids to see the film. And before you think this is just a "Black Thing" don't. Many caucasians celebrities like J.J. Abrams, Chelsea Clinton, Viola Davis, Ellen DeGeneres have all contributed for kids to see this movie. There is even a list on the entertainment site Rotten Tomatoes of all the Go Fund Me campaigns running to raise money for movie screenings for children.
The "Black Panther" craze seems to be unstoppable. And I am one who is glad about it. Hollywood will undoubtedly be changed by it. This film is so amazing. It's indescribable. I highly encourage folks to not just see it one time, but multiple times. Don't go alone. Take a crew of people with you to enjoy and be entertained as you are transported to Wakanda.