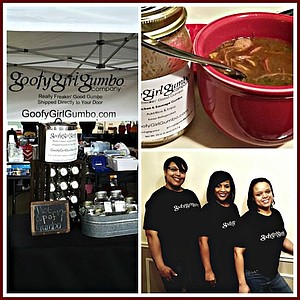 We are in the last sprint of a short but colder than usual winter, an epic flu season, and all major holidays are behind us now. In order to combat the chill in the air, along with whatever may ail us many of us resort to making our favorite stews, soups, and comfort food.
One of my favorite cool season meals to prepare is gumbo, but I rarely have it because sometimes I just don't feel like cooking. There are several options for going out since we do live in the fourth largest city in the United States.
However, there is another option for this writer, Goofy Girl Gumbo Company based in Dallas, Texas makes gumbo that is shipped directly to the consumer. They have chicken and sausage as well as seafood gumbo that is available for purchase. Moreover, one can buy just the roux without the protein.
Asha Miles the founder, started this culinary adventure a few years ago after bringing gumbo to an office party, her co-workers raved about how good her dish was, and shortly thereafter she was flooded with orders by other work associates.
Currently, Miles fill orders with partners: Catrina Porter and Marissa Wells. The trio prepares the orders in a commercial kitchen and subsequently freezes each order before shipping. I tried the chicken and sausage gumbo and this writer is impressed. The roux was well-seasoned, rich in flavors, and had just enough heat in my view. There was nothing more needed other than a scoop of rice which was not included with the order.
Check out what a customer wrote in a review about Asha's gumbo; "I do NOT like gumbo. Never have. But Goofy Girl Gumbo has me hooked! My husband brought some home and asked me to taste but I wouldn't do it. Then when I saw her at the market, I sampled some and OMG!"
Moreover, in an interview with Ms. Miles, she stated that most people assume that she is from Louisiana because the gumbo is so good, but Miles said, " she just makes her gumbo, the way she likes it." For those ready to give Goofy Girl Gumbo a try, go to www.goofygirlgumbo.com. Also, if you're in the Dallas/Fort worth area visiting the Farmer's Market, try a sample and purchase some to take home.

Thanks for reading, and follow Team Style Magazine on Facebook, Twitter, and Instagram. Visit our website www.stylemagazine.com.