Barack Obama and Michelle Obama Portraits Unveiled at National Portrait Gallery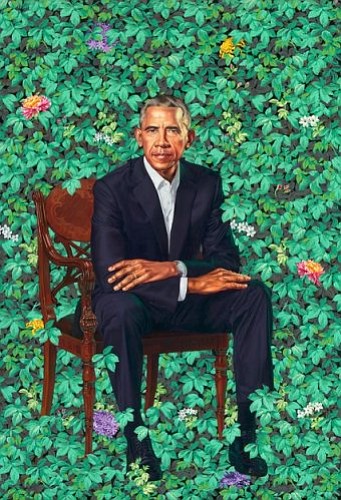 by Holland Cotter via nytimes.com
With the unveiling Monday at the National Portrait Gallery in Washington D.C. of the official presidential likenesses of Barack Obama and the former first lady, Michelle Obama, this city of myriad monuments gets a couple of new ones, each radiating, in its different way, gravitas (his) and glam (hers).
Ordinarily, the event would pass barely noticed in the worlds of politics and art. Yes, the Portrait Gallery, part of the Smithsonian Institution, owns the only readily accessible complete collection of presidential likenesses. But recently commissioned additions to the collection have been so undistinguished that the tradition of installing a new portrait after a leader has left office is now little more than ceremonial routine.
The present debut is strikingly different. Not only are the Obamas the first presidential couple claiming African descent to be enshrined in the collection. The painters they've picked to portray them — Kehinde Wiley, for Mr. Obama's portrait; Amy Sherald, for Mrs. Obama — are African-American as well. Both artists have addressed the politics of race consistently in their past work, and both have done so in subtly savvy ways in these new commissions. Mr. Wiley depicts Mr. Obama not as a self-assured, standard-issue bureaucrat, but as an alert and troubled thinker. Ms. Sherald's image of Mrs. Obama overemphasizes an element of couturial spectacle, but also projects a rock-solid cool.
It doesn't take #BlackLivesMatter consciousness to see the significance of this racial lineup within the national story as told by the Portrait Gallery. Some of the earliest presidents represented — George Washington, Thomas Jefferson — were slaveholders; Mrs. Obama's great-great grandparents were slaves. And today we're seeing more and more evidence that the social gains of the civil rights, and Black Power, and Obama eras are, with a vengeance, being rolled back.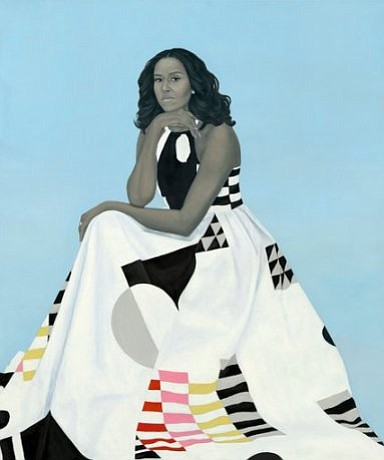 On several levels, then, the Obama portraits stand out in this institutional context, though given the tone of bland propriety that prevails in the museum's long-term "America's Presidents" display — where Mr. Obama's (though not Mrs. Obama's) portrait hangs — standing out is not all that hard to do.
Mr. Wiley, born in Los Angeles in 1977, gained a following in the early 2000s with his crisp, glossy, life-size paintings of young African-American men dressed in hip-hop styles, but depicted in the old-master manner of European royal portraits. More recently he has expanded his repertoire to include female subjects, as well as models from Brazil, India, Nigeria and Senegal, creating the collective image of a global black aristocracy.
In an imposingly scaled painting — just over seven feet tall — the artist presents Mr. Obama dressed in the regulation black suit and an open-necked white shirt, and seated on a vaguely thronelike chair not so different from the one seen in Stuart's Washington portrait. But art historical references stop there. So do tonal echoes of past portraits. Whereas Mr. Obama's predecessors are, to the man, shown expressionless and composed, Mr. Obama sits tensely forward, frowning, elbows on his knees, arms crossed, as if listening hard. No smiles, no Mr. Nice Guy. He's still troubleshooting, still in the game.