Chadwick Boseman and Ryan Coogler on How 'Black Panther' Makes History | Variety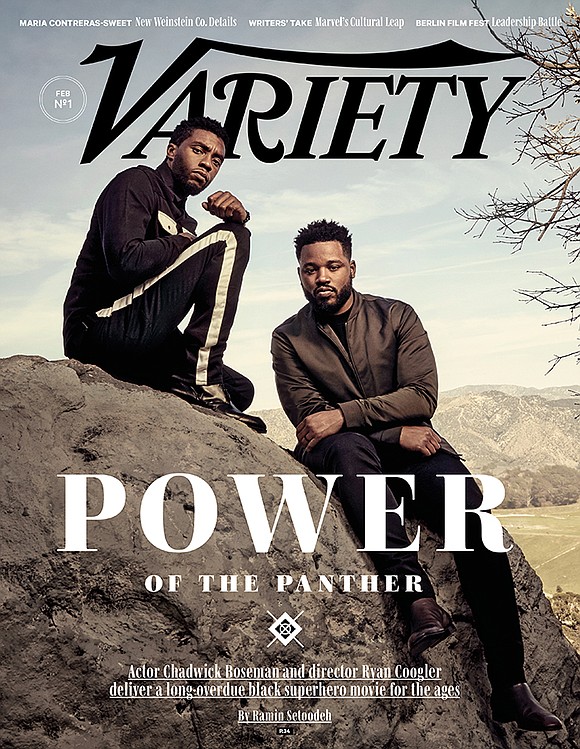 by Ramin Satoodeh via Variety.com
Chadwick Boseman struggled to catch his breath after he was cast as Black Panther. When he first tried on his spandex suit for 2016's "Captain America: Civil War," it felt too restricting. "It was suffocating," recalls Boseman. "Literally, it closed off every possibility of air getting to you. I was in it, put the mask on. I said, 'Hey, you got to get me out of this!'" By the time he headlined his own movie, as the first black Marvel superhero with his name on the poster, Boseman was more comfortable in his re-engineered costume. "I think it begins to feel like skin after a while," says the 41-year-old actor. "But it takes time to get to that place."
The same can be said for Disney's long-awaited tentpole "Black Panther," which opens in theaters on Feb. 16. For decades, actors, directors, producers and fans have wondered why Hollywood was so slow to bring black superheroes to the big screen. It's not that there weren't attempts along the way. In the '90s, Warner Bros. had originally tapped Marlon Wayans to portray Robin in a "Batman" movie, before Chris O'Donnell landed the sidekick role. Wesley Snipes starred in the vampire superhero franchise "Blade," which spawned two sequels. In 2004, Halle Berry headlined "Catwoman," which was ridiculed by critics and tanked at the box office. And 12 years later, Will Smith, the co-star of the juggernaut "Men in Black," popped up in "Suicide Squad" as the under-seen assassin Deadshot.
"Black Panther," directed by Ryan Coogler, is a movie that doubles as a movement, or at least a moment that feels groundbreaking in the same way that last year's runaway hit "Wonder Woman" inspired millions of women. "Panther" marks the first time that a major studio has greenlit a black superhero movie with an African-American director and a primarily black cast, including Forest Whitaker, Angela Bassett, Michael B. Jordan, Lupita Nyong'o, Danai Gurira and Letitia Wright as Shuri, the princess of the fictional African country Wakanda.
The reality of this milestone isn't lost on Coogler, the 31-year-old director of the Sundance darling "Fruitvale Station" and the "Rocky" sequel "Creed." "I think progress comes in ebbs and flows," Coogler says. "I hope things continue to open up. As more content gets made, more opportunities like ours can come about for folks. But you've got to put your foot on the gas when it comes to that or things can go back to where they were."
"Black Panther" chronicles an origin story for a Marvel character who first made his debut in the comic books in 1966. On the big screen, he's a warrior named T'Challa, who returns home to an Afro-futuristic country to inherit the throne as king. The release of the movie coincides with a crossroads in America. Racial tensions are heightened as a result of a president who continually makes reprehensible remarks about immigrants from nonwhite countries. "Black Panther" also arrives on the heels of #OscarsSoWhite, the two consecutive years (2015 and 2016) that the Motion Picture Academy failed to nominate any actors of color for awards.