"A Boy. A Girl. A Dream." Goes to Digital & On Demand This Friday!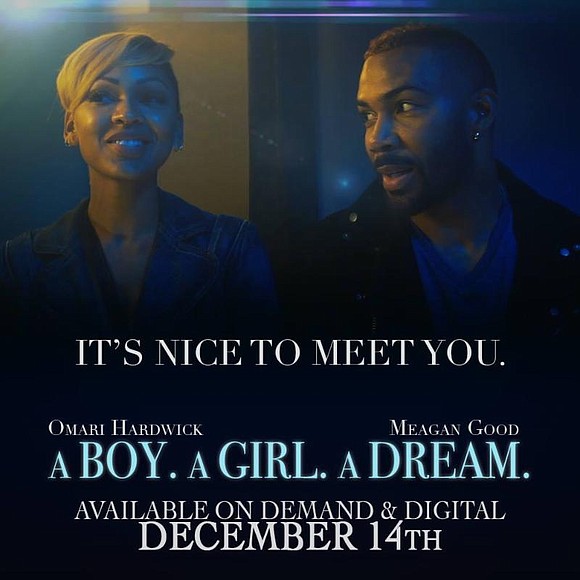 SYNOPSIS: On the night of the 2016 Presidential election, Cass, an L.A. club promoter, takes a thrilling and emotional journey with Frida, a Midwestern visitor. She challenges him to revisit his broken dreams - while he pushes her to discover hers.
DIRECTOR - Qasim Basir
WRITTEN BY - Qasim Basir, Samantha Tanner
PRODUCERS - Datari Turner; Executive Producers: Jash'd Belcher, Louis Steyn, TJ Steyn, Jamal Chilton, Tim Weatherspoon, Phil Thornton, Meagan Good, Omari Hardwick
CAST - Omari Hardwick, Meagan Good, Jay Ellis, Dijon Talton, Wesley Jonathan, Affion Crockett
RUN TIME - 89 min
RATING - R
DISTRIBUTOR - Samuel Goldwyn Films
WEBSITE: aboyagirladreamfilm.com
SOCIAL: IG: @boygirldream_movie; FB: boygirldream
ABOUT DATARI TURNER PRODUCTIONS
Datari Turner Productions is a California-based Film and Television production company founded by Datari Turner in 2010. Visit datariturnerproductions.com for more information.
ABOUT DATARI TURNER
One of the most prolific independent producers in film and television, Datari Turner is crafting a career like no other. As founder of Datari Turner Productions in 2010, he has produced 30 feature films, including six (6) films that premiered at the Sundance Film Festival: A Boy. A Girl. A Dream(2018); Gook (winner of the NEXT Audience Award in 2017), Ten Thousand Saints (2015), Luv (2012), Another Happy Day (2011) and Salvation Boulevard (2011). All told, his films have earned 98 festival award nominations.
Datari has worked with 4 Academy Award winners (Jennifer Connolly, Common, Marisa Tomei and Ellen Burstyn) and 13 Academy Award nominees, including Ethan Hawke, James Franco, and Ruby Dee.Possessing a keen eye for talent, Turner gave actors Ryan Destiny ("Star") and Michael Rainey Jr ("Power") their big screen debuts and cast rapper Common in his first lead film role (Luv).
On the television side, Datari has produced 100 hours of original programming for networks such as WE tv, BET, TV One, Starz and Oxygen. Datari is creator of the hit WE tv franchise "Growing Up Hip Hop," currently in its 4th season and the network's highest-rated program.
In 2015, Datari signed a first-look deal with CodeBlack/Lionsgate Films. In 2016, he signed a first-look deal with Entertainment One to produce original, unscripted programming for the studio. He renewed this deal in 2018.
Datari is currently at work on the upcoming Netflix film Uncorked, written and directed by Insecure executive producer, Prentice Penny.