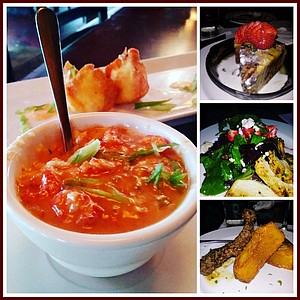 Inside The Public House of Villagio Town Center, located at 22758 Westheimer Parkway, are former co-workers turned business partners cooking up some of the tastiest food on the west side of our Metroplex.
If you like shrimp and grits, steaks, southern fried chicken, salads, boiled seafood, grilled vegetables, and sweet desserts, Chefs Nedra Harris and Derrick Garner have the culinary skills and experience to prepare any dish that is requested by their guests.
Garner is the "real deal," he was born and raised in New Orleans, LA and attended The French Quarter School of Art. Moreover, he has spent some time in some well-known restaurants such as Ruth Chris, Landry's, and Sullivan's Steakhouse. His partner, Nedra, is no "rookie " in the kitchen either; she graduated from The School of Culinary Arts Le Cordon Bleu in Chicago, IL. Additionally, Harris has worked with Wolfgang Puck, and competed on Season 11 of Hell's Kitchen, under the scrutiny of Chef Gordon Ramsey.
Evidence of Garner's and Harris' talents showed clearly in the food that we tasted. This was our first visit to Kitchen DNA and there are definitely more trips in the near future for me. We tasted an array of flavor filled, savory, and well-plated dishes. We started with the "Lobster Stuffed Wontons" that are filled with lobster and a cream sauce. They were light, crispy, and delicious; the lobster blended well with the cream and did not leave a lingering aftertaste on the palate.
Next, were the crawfish and grits, while my guest opted for the firecracker shrimp. I write without hesitancy that I enjoyed one of the best bowls of grits and crawfish that I have had this year. The protein was tender, cooked and seasoned perfectly; the grits had a rich creamy taste.
We also tried the Power Greens Salad, which is mixed greens, feta cheese, candied pecans, berries, and grilled chicken that was seasoned with "Pootie Spice," which is a blend of spices created by Chef Nedra. The plate of greens was fresh, crunchy, and the entire plate was vibrant and satisfying.

Besides the good food, what I loved the most was that both Chefs Harris and Garner truly function in harmony in their endeavor, their commitment to quality and service shows in the food. They seem to have an unwavering team approach to making Kitchen DNA a successful eatery.
Check out their menu by visiting https://publichousekaty.com/from-the-kitchen/. Go to Instagram and follow @KitchenDNA, try not to drool over the mouth-watering food pictures.