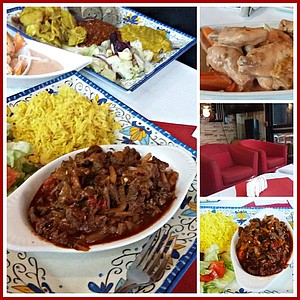 Nestled at 6800 Southwest Freeway in Houston, Texas facing the main road is a jewel straight out of Africa. The pretty red building with plentiful parking and easy access to the entrance is home to Lucy, Ethiopian Restaurant and Lounge.

According to their website www.LucyHouston.com "Our restaurant and lounge celebrates the roots of humanity in Ethiopia - which you will find in our food, art-gallery, and festivities. We are family owned and operated with friendly staff, delicious food and drink, and a great atmosphere. Please stop in to eat, drink, relax, and have fun. "
This was our first visit to Lucy's, and it was apparent to this writer why they were named among "Top 50 Restaurants" in Houston by the Houstonian in 2013. The atmosphere is calm, the furniture and fixtures are artfully arranged with deep colors and cloths which made my guest and I feel relaxed.
We started our dining experience with the wings, they were roasted, served with the sauce on top, and raw carrots on the side. Their menu states that they come with ranch dressing, but this sauce didn't taste like ranch to me. However, the wings were juicy; the skin was crisp and full of flavor.
For the main courses: I opted for the Awaze Tibs which is cubed tender beef, marinated and cooked with tomato, jalapenos, garlic, and berbere sauce. This tasty beef stew is served with rice and a salad. My guest chose the vegetarian trio, which is a delicious platter of stewed cabbage, lentils, salad and served with Ingera, which is a thin, spongy, type of bread that is served warm and rolled up like a tortilla. The meat was lean, full of flavor, the heat was well-balanced in this dish and did not overpower the other spices.

A reviewer on Facebook who gave Lucy five stars wrote, "The food here is great!! We went in around 112:30 am and the food came out hot & fresh. The quality, portion, size, and taste could not get any better!!! The place has beautifully placed art & comfortable seating. The Honey wine is a treat. We even had the eggplant dip that was perfectly spiced."
Lucy is open Tuesday through Sunday from 11:00 a.m. until 11:00 p.m. The dress is casual attire and they have a full service bar.
Thanks for reading, please continue to follow Team Style Magazine on Facebook, Instagram, and Twitter.