Dr. Grenita Lathan: Not Compromising to Give Children the Best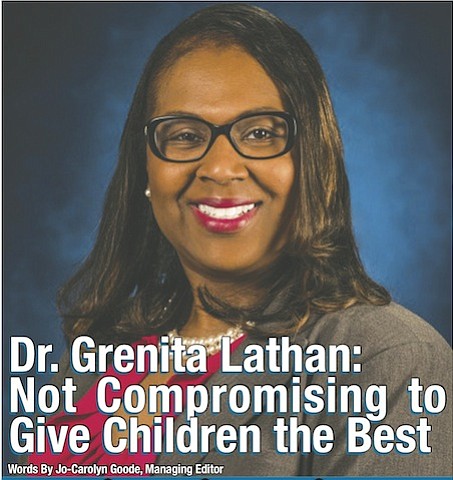 The door to Houston opened for Dr. Lathan in 2015, when she came at the calling from then Houston ISD Superintendent Dr. Terry Grier to be the new Chief School Officer. Being just what Houston ISD needed, Dr. Lathan added more than 20 schools to her list of institutions that she has transformed from having an "improvement required" rating to "met standard" rating. The opportunity to work with those low performing schools is what initially drew Dr. Lathan to Houston. In addition, she said she liked working with Dr. Grier because he was the kind of boss that allowed you to do your job your way as long as you had a working solution. "Having that autonomy to be able to take (I believe at the time it was 30 something schools) and truly to build them and to move those schools out of IR (Improvement Required) was challenging and exciting," commented Dr. Lathan. That kind of success is what she wants to continue to build on in Houston ISD.
Bragging about the district's phenomenal principals, teachers, and central office staff as well as the many opportunities for students in areas like STEM, fine arts, and agriculture, Dr. Lathan is proud of Houston ISD. She knows the district's success is rooted in the commitment of the community that not only wants to see the city of Houston be successful but also the school district be successful too.
Despite all that success, she is not a stranger to Houston ISD struggles. The district's challenges don't scare her but excite her to turn them around. "We need to deal with our 10 struggling low performance schools and the threat of state takeover. We have to present a balanced budget to the board," said Dr. Lathan who plans on hosting community events and town halls to build relationships and stronger communities. Plans are not set in stone as to how to tackle this but she is examining how to reorganize and realign services to the various school campuses to build principal and teacher capacity. She, along with the school board, are currently seeking partnerships to help with the management of schools to prevent conservatorship.
Dr. Lathan is ready and prepared to make tough choices and even harder decisions if it means that Houston ISD children get the best of the best. "At the end of the day somebody is going to be unhappy but I can close my eyes and look myself in the mirror and say, 'Hey, you did well today. You did well for children. You didn't compromise who you are as an individual.' With that kind of attitude and spirit, Houston ISD is sure to excel to new dimensions.