Dr. Grenita Lathan: Not Compromising to Give Children the Best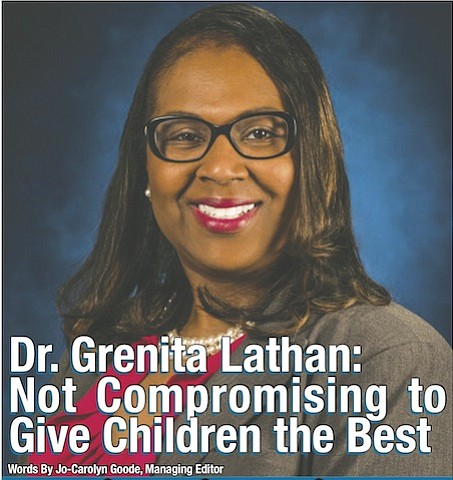 Three weeks in and Dr. Grenita Lathan is still smiling. The North Carolina native was recently appointed as Houston ISD Interim Superintendent of the largest school district in Texas and the seventh largest school district in the country with more than 210,000 students and close to 300 schools.
As she gets more acquainted with the duties of her new role vacated by Richard Carranza who is now heading up New York City schools, Dr. Lathan is still getting to know Houston. She enjoys riding around the city with her family to see what is here and there. She is becoming a bit of foodie with the plethora of restaurant offerings the city has. Her ultimate goal is to navigate the city without using her GPS.
She is sure to get a lot of practice with that as the new head of Houston ISD. These days her new favorite word has become balance as she manages her busy schedule chalked full of meetings, school visits, and other appointments. She laughed, "It is a little overwhelming right now but it will get better." She says she wants to be "everything to everybody" and that attitude often puts too much on her plate. "I think that is that mother, that sister, that friend in me." Her staff will play a vital role in keeping her grounded and helping her to not always saying, "yes" to everything.
Although she may say "no" to certain things, she will never say that to the children of Houston ISD. Her goal is to ensure that students receive a quality education so upon graduation, their options are plentiful for if they want to attend a 2-year college, 4-year university, or go out and work in the world. Whatever their decision, Dr. Lathan wants to make sure that they have not been shortchanged as it relates to their education.

Giving children the best of herself is a lesson she learned early in life from her first teachers in Sunday School. Fondly, Dr. Lathan remembers how her teachers loved her and all the students. Teachers treated them as if they were their own children. "They were my role models." She continued, "They were able to make connections and build relationships. They held us accountable as youth and growing up." It left such an impression on the young Lathan that later in life when she had her own classroom full of students, she emulated the teaching styles of her mother, grandmother, and her first teachers. "I respected the children I taught and treated them like they were my own children. I made sure I modeled what I preached," commented Dr. Lathan.
Holding teachers and principals accountable, having high expectations, modeling those high expectations and empowering staff to achieve goals are all part of the formula for success that she will implement as the Interim Superintendent. The formula has proven to be successful for Dr. Lathan through a string of executive administrative careers in education. From teacher to Chief Academic Officer, Dr. Lathan has built up a reputation that she is willing to make the hard decisions whether they are popular or not or if they might cost her job. As long she can close her eyes at night and look herself in the mirror the next day, she knows she did well and didn't compromise herself or her values. Another one of those early lessons that her grandmother taught her. "She always said, 'You never compromise your values to belong.'" A smiling Dr. Lathan continued, "Whatever I did was right because at the end of the day I know if I treat people right I believe it will come back to me. And if one door closes another one will open."