2018 GMC Terrain: Reinvented with a New Look, Engine, and So Much More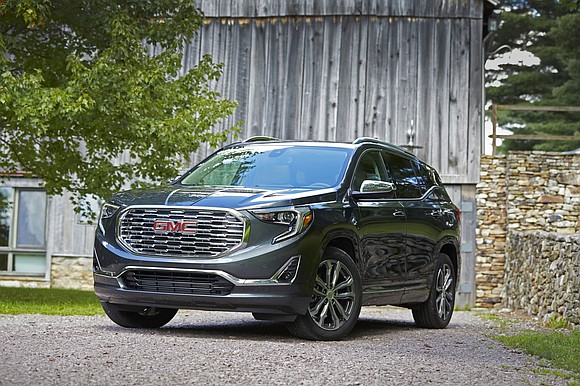 Day after day they haunt drivers. No matter how drivers try to avoid them someway the vehicle always drifts towards them. As soon as one is fixed two more seem to appear in its place. They cost drivers tons of money to fix their vehicles from their damage and in taxes to repair. Those pesky hollow cavities formed by the erosion of rock. I am talking about potholes, people. Houston has plenty of them. Because of this drivers seek vehicles that can handle the rough terrain and keep it moving. What better vehicle to do the job than the one named for that very purpose, the GMC Terrain.
When the 2010 GMC Terrain first made its debut in 2009 it was praised for its versatility, functionality, and upscale design. Seven years later and it is still known for those same three qualities and like a fine wine, it has improved with age. Let's talk about the 2018 GMC Terrain AWD Denali.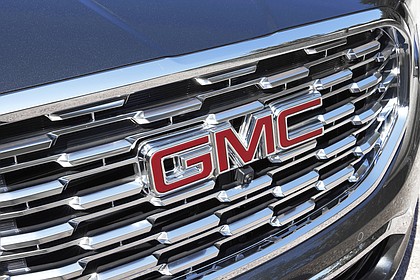 Looking at the 2018 GMC Terrain and one thing is obvious. It is smaller than its predecessor. A few inches were shaved off the length and a little more off the wheelbase resulting in decreased cargo space and legroom for front and second-row passengers. That cargo space is reclaimed. I will tell you about that a little later. The redesigned of the exterior has made the GMC Terrain more modern and distinctive than any other model with bolder, sharper curves. Standout features like the "floating roof" keep it on trend. Spring for the Denali trim level to really give the GMC Terrain an upgrade of a prominent grille with GMC badging, more chrome and aluminum detailing, LED_-daytime running lamps, roof rack, side rails, dual exhaust tips, and 19" ultra-bright aluminum wheels.
Inside the two-tone leather seats command your attention as soon as you open the door. Simply giving the interior a glance over and I could tell that only top quality materials were used in the construction. That was further confirmed by further expectation. Seats are perforated and leather-appointed for a richness that makes the body feel good. Although backseat passengers don't get the enjoyment of heated seats like front seat passengers, all will love the infotainment center. Now the 7-inch touch screen is standard in 2018 models or opt for the 8-inch screen to experience Bluetooth technology, audio streaming, Onstar connectivity, Apple Carplay, Android Auto, 4G LTE Wi-Fi Hotspot, XM Radio, and navigation.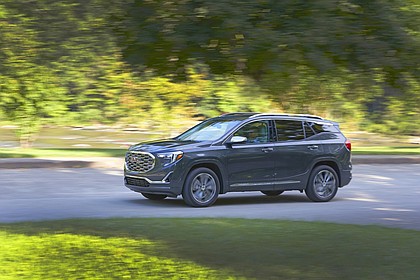 Being a gas-hungry SUV was not good for the GMC Terrain so for 2018 the fuel economy was improved with a smaller engine. Gone is the V6 and here is the 1.6-liter engine. However, my Denali trim level GMC Terrain was equipped with the more powerful 2.0-liter turbo engine four-cylinder engine that gets 21-mpg city and 26-mpg highway for better torque. And since I had the all-wheel drive model I was able to have the better fuel economy and save money on gas.
I opened this review speaking about potholes and how the Terrain was suited to handle those treacherous road conditions. Turns out the GMC Terrain can handle more than potholes but also pavement, snow, dirt, and rocks. Drivers just need to twist their wrist to utilize the terrain selector for most favorable use of the AWD system, transmission, and engine. With these changes, it is surprising that the GMC Terrain's towing capacity has not been affected. It can still tow up to 3,500 pounds as previous models.