After High School What's Next?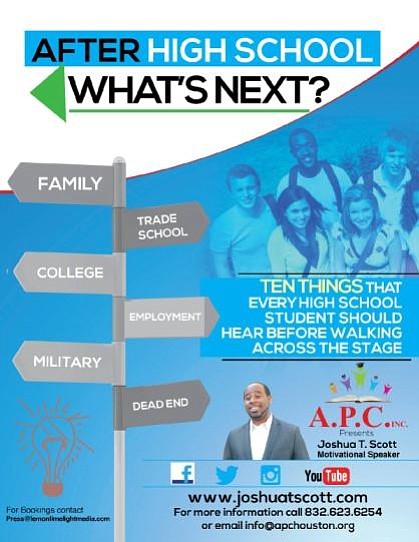 April 9, 2018-Houston, TX- According to EdSource surveys, fewer than half of high school students across the country feel that they're ready for college and careers. Houston based entrepreneur, Joshua T. Scott recognized this issue among the youth and has made it his duty to step in and lend a helping hand. In the coming months, Joshua Scott will conduct a Houston High School Tour, to get students ready for their next stage in life.
The mantra that guides Joshua T. Scott's life is, "A life committed only to helping one's self is a life that is underutilized." Entrepreneur, Philanthropist, Faith-Based Leader, and Author, Joshua T. Scott, wears many hats and has dedicated his life to being an outstanding contributor in the community. Professionally and personally, Scott exudes and embodies the confidence and acute empathy that commits him to the principle of helping others.
Joshua T. Scott's non-profit organization, The Association for the People and Community Inc. or APC Inc, conducts various community outreach initiatives including holiday food and gift drives and voter registration campaigns. The "After School What's Next?" campaign will be their next venture to guide students who they may have tutored in the past or who may have been a part of their S.T.E.M. program, whom they took on a special field trip this year to see Marvel's "Black Panther".
The topics that will be covered during this workshop will be:
Family
Trade School
College
Employment
Military
Dead End