Houston Money Week 2018 Kicks Off April 14-22, 2018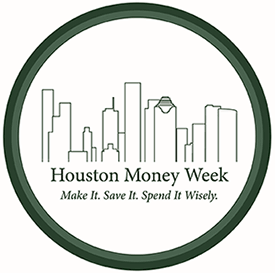 Houstonians will have the opportunity to gain a financial education with tools to help them save money, grow their money, improve their credit score, prepare for retirement and more during Houston Money Week kicking off April 14-22, 2018. The city's premier financial education is a free a community-wide financial education initiative that empowers families and individuals to be successful in making financial choices. HMW serves individuals, families, veterans and small business owners across the greater Houston area, offering free financial education events and raising awareness of community resources.
Program goals are achieved through the collaboration and coordinated efforts of organizations across Houston and the surrounding counties. HMW partners—businesses, financial institutions, schools, libraries, nonprofits, government agencies and media outlets—come together each year in April to emphasize the importance of financial education, inform consumers where they can get assistance, and provide free educational seminars and activities.
Houston Money Week offers free programs and activities for all age groups, income levels, and financial backgrounds. The annual weeklong event provides opportunities to learn about financial topics such as establishing a budget, understanding credit reports and credit scores, small business and entrepreneur loan resources, avoiding scams, first-time home buying, and estate planning. Events will be held at locations throughout the city, and all are free and open to the public. Programs and activities are designed to reach a wide variety of audiences, from elementary school children to veterans.
The week starts with Iberiabank's 3rd Annual Kick Off to Houston Money Week. They will offer free community financial services, health fair, free entertainment, blood drive and much more for all ages on April 14th from 9am-2pm at their location on W. Sam Houston Parkway North. Married couples can discover financial bliss at a free event at the Kingdom Builders Center on the same day starting at 10am. Couples will learn about the dynamics of family finances, and the importance of staying fully informed and engaged in every aspect of both spouses' finances during a free financial workshop. On April 16 and 17 attend a free Financial Literacy Fair geared towards teaching students to manage their finances while they are in college and after graduation. Parents can expose younger children to a financial education at the Thrive By Five event on April 18th and 19th for preschoolers to learn the basic concepts about money. Homebuyers can get savvy about their finances at two events on April 19th to discuss loan qualifications, the down payment process and more. April 21 will help entrepreneurs grow their financial knowledge at the free seminar that will focus on personal credit reports and credit scores, business plans and legal structure, financial statements and risk considerations. Many other free events are happening not just during Houston Money Week but also during the entire month of April. Check the schedule of events at HoustonMoneyWeek.org.
The key to long-term financial success is having the knowledge and skills to
make informed and smart financial decisions.