The Story Behind Houston Attorney Adrian Patterson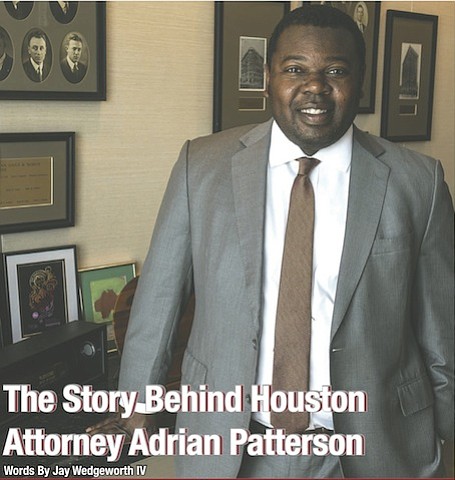 By Jay Wedgeworth IV
Houston Style sat down with legal eagle Adrian Patterson to learn more about his path from humble beginnings to becoming Houston's go-to attorney for public finance at Andrews Kurth Kenyon LLP. And there is no doubt he will be an integral part of Houston's future for decades to come.

"I really became interested in public finance and working with cities and universities to build streets and libraries and other projects for the public good," Adrian said. In addition to the legal work he has been instrumental in at his alma mater, he is also a city council appointee to the Houston Municipal Employees Pension System, providing advice and insight into that important system. And yet another example of his commitment to building our community is serving as one of the outside counsel to Houston METRO. "I remember as a child we would often take the bus out of necessity to get around Houston, many of my family and friends did as well. So it is extremely rewarding to now work with METRO and be a part of their efforts to expand their service and reach even more people in our community."
"It is a tremendous honor to work alongside Gene Locke and Bob Collie at Andrews Kurth—two men I greatly admire," he said. At the firm, in addition to his focus on public finance and acting as bond counsel for cities, counties, school districts, state agencies, university systems, hospitals, municipal water and sewer systems and airports he is also a leader for numerous public law issues, including compliance reviews, elections, the Open Meetings Act and the Public Information Act. He is a co-chair of the firm's Political Action Committee (PAC) in an effort to recruit and support the best qualified candidates for elected office. Additionally, Adrian also chairs the firm's Diversity Committee, helping direct vital community related spending consistent with their diversity and inclusion strategy.

Born and raised in Houston, Adrian is the product of the city's public school system. He graduated from Milby High, where he was a member of the basketball team.
Adrian recalls his grandfather, Pat Patterson, as one of his childhood role models. He was the head football coach at Yates High School from the late 1940s to the 1960s, and was the first black coach to be elected to the Texas Football Coaches Hall of Fame.
"Before and during the early days of his football coaching career, he was 4-time All-Star infielder in the Negro Baseball League from 1934-1949, I am very proud of his legacy," Adrian said.
After high school, Adrian attended the University of Houston where he earned his Bachelor of Arts degree in Humanities. He remains tied to the University today through his work as a public finance attorney, handling the school's bond work and furthering its capital projects–including renovation of the existing Hofheinz Pavilion into the new Fertitta Center.
Following graduation, Adrian moved to London and worked at the global law firm, Skadden Arps. It was during his time there that he decided to pursue a career in law.