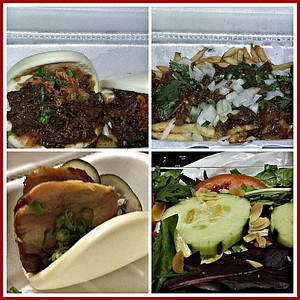 We've all had those days' lunch or dinner when we are ready to eat, but we craved something that is out of our comfort zone when it comes to food. At Fat Bao's, where one can choose from something called Bulgogi Bao, a Pork Belly Bao, Crab, or Chicken Bao, in addition to Fat Cauli, Fat Fries, or Curry Fat Fries, then you have probably embarked on one of the most unique tasting experiences in the Greater Houston area.

This Asian Fusion establishment currently has two locations: 3419 Kirby Drive in Houston, and 3355 Hwy. 6 in Sugar Land, Texas, they are open for lunch through dinner and have taken their flavors to a whole new level of deliciousness.

We didn't get the opportunity to interview any of the personnel at Fat Bao's but, according to their website, "back in the summer of 2012, two high school friends teamed up to answer the question, "what is the tastiest ingredient we can stuff inside these steamed buns?" They worked day and night searching for the perfect combination. Crab and coleslaw? Banana and Nutella? How far outside the box could they go? After several long months of trial and error, Fat Bao Kirby opened its doors in December 2012. Ten months later in October 2013, Fat Bao Sugar Land joined the party.
My first introduction to this particular Asian Fusion eatery was via Uber Eats. I was famished after a long day of work and could not decide what to eat, but I knew that I didn't want to cook. Once I opened the app and read some of the menu offerings, my curiosity as well as my growling stomach got the best of me and soon to my front door appeared two Bulgoi Baos, along with some Fat Fries, and a side salad.
The Bulgogi is marinated beef rib eye, kimchi, and green onions. It is served in a bun that looks like a fluffy white small tortilla, but it is very light. The Fat Fries contain the Bulgogi beef, onions and, of course, thinly sliced potato fries. The side salad is a combination of mixed greens, cucumbers, tomatoes and comes with mandarin vinaigrette. The first bite of the Bulgogi had my eyes rolling to the top of my head, and the choice of sauces ranged from a mild semi-sweet sauce to the tangy heat of the sriracha.
If you are a lover of bold savory flavors, Fat Bao's has you covered. They also serve a variety of Ramen Soups and desserts. See a full menu online at www.FatBaoHouston.com/SugarLand.

Thanks for reading, and please continue to follow Team Style Magazine on Facebook, Twitter, and Instagram.