Tony Diaz: The Father of the Librotraficante Movement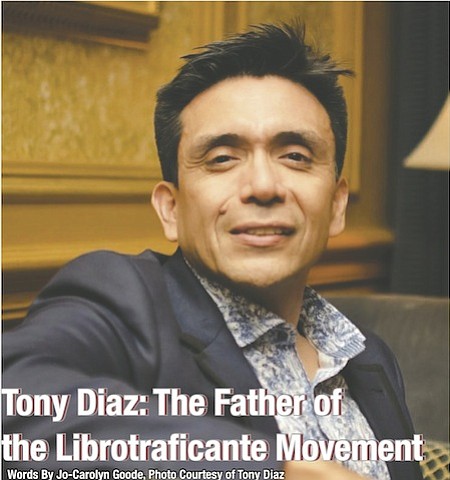 In celebration of Hispanic Heritage Month, Houston Style Magazine is recognizing some of Houston's most prominent Hispanics that are making a difference in their communities. We start with a man who is known not just in Houston but also throughout the state and the nation. Meet activist, author, radio host, and writer Tony Diaz.
Before he was campaigning to change the way Mexican American history is learned in schools and debating the banned of piñatas in Houston's parks, he was a young boy growing up in Chicago, IL. Born to parents who were migrant workers, Diaz is the youngest of four brothers and four sisters. All of his family's hopes and dreams were placed on him, as he was the only one in his family who went to school fulltime.
"Having one of the kids study all the time was a big moment for the family," Diaz recalled. "There was one thing I remember about being a kid and that was the importance of education. "
He knew how important it was to his parents that he got the best education possible so they sacrifice everything to ensure that he got it. Diaz was the first in his family to graduate high school. He then left Chicago to come to Houston to attend the prestigious creative writing program at the University of Houston. He described his acceptance to UH as thrilling as it was a visible sign of his success that he was proud to show his parents and one of his three life's goals. The others were to earn a black belt in Tae Kwon Do and published an award-winning book. He did those too.
Initially, when Diaz set foot in Houston he thought he would earn his master's degree and return to his beloved Chicago. But Houston took a hold of him and wouldn't let go. He fell in love with the city. "I think what was eye-opening to me is that it seemed that it was a wider range of opportunities in Houston, especially for me at the time. And, also in my humble estimation, I think that for my access to education there were more opportunities for myself and Latinos in Houston." Diaz continued, "I think I have been able to accomplish a lot differently than I would have accomplished in Chicago only because it is more open. There is more room for trying on projects."
Community activism has become one of his biggest, most challenging and most rewarding project. With interest sparked when he was very young in Chicago, Diaz saw first hand the before and after effects of how speaking up for your rights changed people and communities. He learned how unions worked together, communities operated as a unit and the power of language. That initial spark would grow into a flame that is fueling him in his activism today.
He began his fight using his most powerful skill, language, by establishing Nuestra Palabra: Latino Writers Having Their Say (NP). Originally NP was a monthly reading series featuring nationally published authors and writers from the community. Three years after its founding, the group would birth the Nuestra Palabra Radio Show on 90.1 FM. KPFT. The popularity of both NP and the radio show gave Diaz the idea to create an event that brought Edward James Olmos Latino Book and Family Festival that was attended by more than 15,000 people. All of these entities would tie together to form the Librotraficante Movement, which defies the far right attack on ethnic studies and freedom of speech. Librotraficante translates to mean book trafficker.