Elvin Franklin Jr. Looking Out for the Underserved of Houston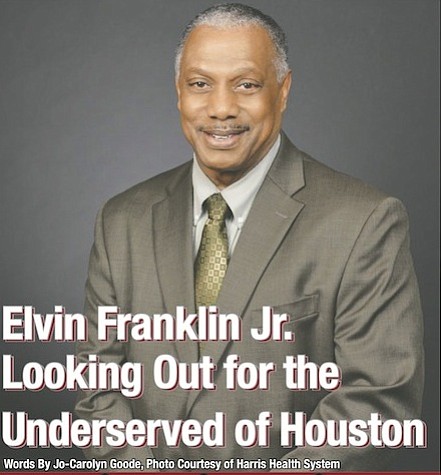 Never forget from whence you came was a principle that a young Elvin Franklin Jr. learned at church. It is a lesson that has not only stuck with him but motivates him for what he does daily, help the underserved.
Volunteering since he was 19-years-old, Franklin said his mother constantly told him along with his five brothers and sister, 'It is more of a blessing to give than to receive. ' Franklin has poured all of himself into various industries through numerous entities. From the YMCA to the North Forest ISD School Board, he is always finding ways to give back. He starts off just wanting to do a small donation and ends up compelled to do so much more. Now because of his spirit to always give the Harris County Hospital System has honored him with an administration building named in his honor. This is even more significant when considering that Franklin is just one of three African American men to have the distinction of a building named after them in the Texas Medical Center. John B. Coleman and Quentin Mease are the other two men.
Franklin's connection with the Harris System (HHS) was years in the making. It started brewing in the 1970s when he formed a friendship with the late El Franco Lee. The two met while Lee worked part-time at the YMCA where Franklin's kids attended. (Franklin would also later serve on the YMCA Northeast Board due to another friend, Ira Scott. But that's another story.) Lee had been elected as County Commissioner Precinct 1 and needed to fill some board positions. Lee called on his good friend Franklin to serve giving him three choices: insurance, Port of Houston, or health care. Having already served in the insurance industry as a business owner with State Farm, Franklin wanted to do something different. He felt that he was unqualified for the Port of Houston. So that left health care, something he was already passionate about.
An unfortunate accident occurred when he was a child and required him to need medical assistance. Access to healthcare was very limited in those days and the closest hospital was 70 miles away by train. Once Franklin and his mother arrived at the hospital they would have to wait 10 hours before he was seen by a doctor. Not because of overcrowding or understaffing but because of the color of their skin. It was the practice of the day that White patients were treated before Black patients. Right then Franklin made a promise to himself that if he was ever in a position to help someone not go through that experience he would.
He has kept that promise by changing the way people received health care in Harris County. Appointed to the Harris Health System in 1986, some of his first transformations came within improving the physical structure of clinics. Framed buildings were replaced with bricks. The clinics increased from 5 to 19. He set up the city's first AIDS Clinic and a school-based program started under the leadership of Alicia Reyes. The budget for the hospital district increased to a billion plus dollars. And did I mention that he does this without a salary. "My pay is when I see a smile on someone's face that I feel like we have helped. That's the biggest check I can get," said Franklin.
Healthcare is taken for granted by a lot of people and many don't understand the importance of it. Franklin just wants to make sure all citizens have healthcare. "I just feel like I owed it to our fellow man to make sure that all of God's children received proper health care." He continued saying, "The founding fathers who started the Harris County Hospital District 50 years ago were brilliant people because they felt like they should have a voice in making sure that all of their citizens receive proper health care," said Franklin about what inspires him to keep working for HHS.
"When I see the opportunities that are afforded to all of us in America you have to think about somebody else other than yourself some time," said Franklin.