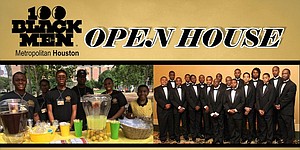 The 100 Black Men of Metropolitan Houston will kick-off its' 2017-2018 mentoring program with a special parent and student orientation session. This session is intended for new and existing program participants. Parents and students who are already a part of our mentoring program should attend, and those parents and students interested in learning more and possibly joining the program should also attend.
Our mentoring program is open to young men in the 6th through 12th grades. We plan to share general information about our mentoring program and specific information about what we have planned for the 2017-2018 program year.
It is important that all students are accompanied by a parent or guardian for this session. We look forward to your attendance.
WHEN
Saturday, September 9, 2017 from 10:00 AM to 12:00 PM (CDT)
WHERE
Mickey Leland College Preparatory Academy for Young Men
(1700 Gregg Street, Houston, TX 77020), Houston, TX 77004