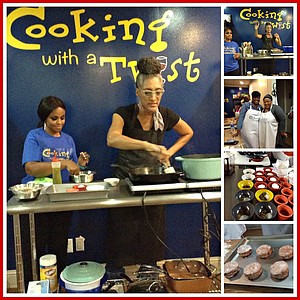 Houston Style Magazine along with 24 Houstonians had a front row seat as Chef Carla Hall of ABC's The Chew electrified the main room at "Cooking With a Twist "as she gave culinary instructions to each class participant.

Chef Dee Dee Coleman and her staff were on hand as well to facilitate the activities while Chef Carla had the room full of guests bursting into laughter, posing for photos, and attending to their cooking tasks.
On the menu: Spinach & Coconut Cream Soup, Buffalo Chicken Meatballs with Celery Bleu Cheese Slaw, Yukon Gold Celery Root Mash, and Chocolate Buttermilk Biscuits with Vanilla Custard.
We watched with delight as Chef Carla talked the audience through each recipe in addition to sharing particular techniques on how to execute each meal without a glitch. For example, she showed the group how to aerate the flour to eliminate excess moisture, which is important for any baker who lives in a humid climate. Additionally, Chef Carla demonstrated how to properly fold the prepared dough prior to baking in order to achieve the best results once the pastries are placed in the oven.
In addition to being a creative and talented chef, Chef Carla has a background in theater, dance, modeling, and business. She worked for Price Waterhouse after graduating from Howard University with an Accounting Degree. Her roots are from the Southern United States, namely, Nashville, Tennessee. Chef Carla is also the author of two cookbooks: Carla's Comfort Food: Favorite Dishes from Around the World" and "Cooking with Love: Comfort Food That Hugs You."
Chefs Dee Dee and Carla struck up a friendship while working on an event in North Carolina, once upon a time. And after hearing and seeing all of the devastation after Hurricane Harvey rolled over our area, Chef Carla sent Chef Dee Dee a text message that read, " I got you!" in short. Chef Dee Dee expressed her appreciation as well as acknowledging how God answered her prayer for help.
Chef Dee Dee's business, like many others in our area, was forced to cease operations while our area recovered from the storm, but what a breath of fresh air it was to witness the warmth and high energy in a room filled with guests, two hard working chefs, and a staff committed to excellence.
Chef Carl taught two classes of around 24 -25 students in each. We sat for the evening show and there was so much laughter at times we couldn't hear the next instruction.
To learn more about Chef Dee Dee, visit: www.cookingwithatwist.com. To learn more about Chef Carla, visit www.carlahall.com
Continue to follow Team Style Magazine on Facebook, Instagram, and Twitter.