Samuel Pena: A Man with A Servant's Heart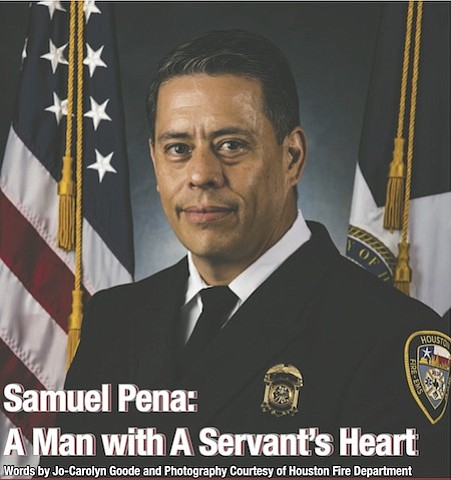 Working hard, treating people right, and always preparing yourself for what comes his way has been Pena formula for success. He also gives credit to never losing sight of how blessed he is and not wasting any opportunity afforded him. "This country affords an opportunity for those who persevere, for those who stay focus, for those that do the right thing in order to prepare themselves to take advantage of opportunities that will inevitably present themselves," commented Pena.
Being prepared is a lesson that he stresses to today's youth. Understanding his responsibility as a role model to not just Hispanic youth but youth of any ethnicity, Pena teaches about the importance of building relationships to further others' goals, a different approach than most would take. However, Pena believes helping others' achieve their goals is one of the best ways to learn about management and leadership.
"If you work at something, whatever it is, diligently and try to do your work that other people value and you treat people correctly and you prepare yourself to take opportunities you will be successful," said Pena, as he is a living example of that creed.
More than just those lessons, Pena also has added political commentary and positive support to keep pushing youth towards their goals, especially those of Hispanic descent who are fearful of the future with the DACA legislation. "It doesn't make sense to me," Pena said as he went on to talk about how he considers it to be irresponsible to hold children accountable for the actions of their parents. "We need to have an open mind and consider the impact of what we are saying. We can't mass deport all of these individuals who have come here really - and we have heard this term before – through no fault of their own." Pena continued, "They were brought here as children. They have grown up in this country. They have played by the rules. And now I think we owe it to them to do the hard work and find a reasonable solution to the decision because they are, in fact, by all sense of the word, American."
Some of the very men and women that Pena has the honor and privilege of serving alongside are worried about the status of their future in this country. That is sad when these are the same people that risk their own life daily in keeping the citizens of this city safe and out of harm's way.
"That is the essence of what it is to be an American. It is picking yourself up by your bootstraps, helping others along the way, and doing the right thing for your fellow man," said Pena as he talked about how those same firefighters demonstrated that during the devastating Hurricane Harvey. And they did that not for praise or a thank you but because they simply wanted to serve.
Serving others is something that has been in Pena's DNA since he was born. His parents instilled it in him. And it is his focus in everything that he does. It is what makes him proud to be not just a Hispanic American but also an American period. He is a man with a servant's heart.