A Fresh Tailgate Menu
Quick and tasty ideas for game day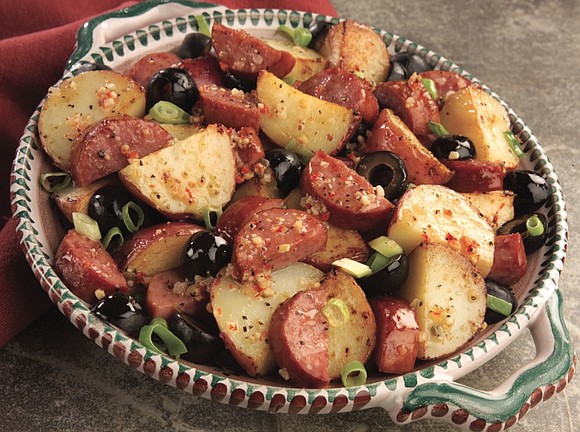 Take your tailgating game to new heights this season with fresh dishes that are easy to make and serve, whether your tailgating tradition takes place at the game or at home.
Fast prep times and short ingredient lists make these recipes a cinch to prepare in advance and have ready to go as soon as you reach the parking lot or before guests arrive. The star ingredients are naturally hardwood-smoked sausages and seasoned deli meats from Eckrich, which offers a variety of smoked sausage flavors in traditional ropes and bun-length links as well as gluten-free deli meats such as Black Forest ham and oven-roasted turkey, all with just the right blend of seasonings for a rich, savory taste.
You can switch up the flavors of these recipes by subbing in different varieties of smoked sausage, such as replacing the original rope-style smoked sausage with Eckrich Jalapeno & Cheddar Links. The roll-ups are also easy to customize for guests using any type of deli meat, and they're easy to enjoy on the go if you need a quick bite on the way to the stadium.
Find more game-day recipes at Eckrich.com.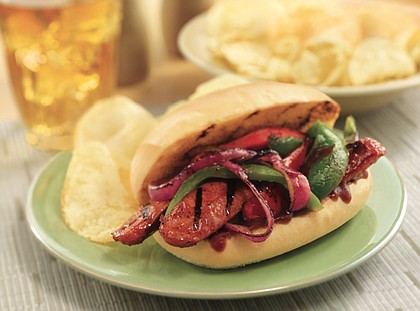 Grilled Sausage Skewer Sandwiches
Cook time: 15 minutes
Servings: 6
1 regular size package Eckrich Smoked Sausage
1 small red onion, cut into 1-inch pieces
1 red bell pepper, seeded, cut into 1-inch pieces
6 wooden skewers, 10 inches long
1/2 cup Italian salad dressing, divided
6 bolillo or sandwich rolls, split
1 avocado, cut into 1/2-inch thick slices
1/4 cup cilantro leaves
Heat grill to medium-high.
Cut sausage into 1/2-inch thick slices. Thread sausage, onion and bell peppers alternately onto skewers. Brush 1/4 cup salad dressing on skewered sausage and vegetables.
Grill until sausage is golden brown and vegetables are crisp-tender, about 10 minutes, turning once.
Brush remaining salad dressing on rolls. Fill rolls with grilled sausage and vegetables. Divide avocado and cilantro onto each.
Tip: To broil sausage rather than grill, heat broiler to medium-high, follow the same skewer preparation instructions and broil about 10 minutes, or until sausage is golden brown and vegetables are crisp-tender.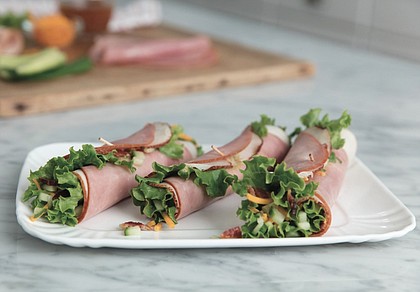 Ham and Turkey Roll-ups
Cook time: 10 minutes
Servings: 2
4 ounces Eckrich Deli Oven Roasted Turkey Breast
4 ounces Eckrich Deli Black Forest Ham
lettuce leaves
2 tablespoons chunky guacamole
1/4 cup chopped cucumbers
1 tablespoon shredded cheddar cheese
2 slices bacon, cooked and crumbled
Layer turkey and ham slices. Layer lettuce, guacamole, cucumber, cheese and bacon crumbles. Roll meat and secure with toothpick.
Potato Salad with Smoked Sausage
Cook time: 30 minutes
Servings: 6
3/4 regular size package Eckrich Smoked Sausage, halved lengthwise, cut into 1/2-inch thick slices
3 small red potatoes (about 2 1/2 pounds), cooked and quartered
1 can (4 ounces) pitted ripe olives, drained and halved
2 cups Italian dressing
1 green onion, sliced (about 1/4 cup)
1 clove garlic, minced
2 teaspoons ground black pepper
In large skillet over medium heat, cook sausage 6 minutes, stirring occasionally. Stir in potatoes; cook until heated through, stirring occasionally. Remove from heat.